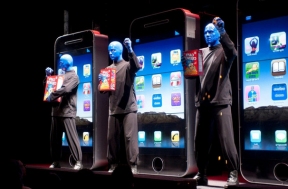 By: Nikoleta Morales
If you have ever been to a Blue Man Group show you have experienced the uniqueness and energy it brings to the audience. If you haven't, this is one of the performances in your life you don't want to miss. The Blue Man Group is well known for their shows with music, comedy and multimedia theatrics in Chicago, Boston, New York, Las Vegas, Orlando, Berlin, Amsterdam and Oberhausen.
Lawndale News talked to one of the Blue Man Group cast members, Gareth Hinsley, about his involvement with the group and about the essence, the core of this blue masked group. Hinsley is originally from the UK and joined the Blue Man Group in 2006. After auditioning for the Blue Man Group and attending drum school in London, he came to Chicago to complete his training.
Lawndale News: What is the history of the Blue Man Group?
Gareth Hinsley: It started out with three guys in New York in 1989. They took this idea and ran with it. Ordinary people were removed and they believed it should be more visceral. They pushed the character and created vignettes. They put on a show for a 14 week run and then it completely took off. It has been in Chicago for almost 17 years.
Can you tell us about your history with the Blue Man Group?
I joined eight and a half years ago. I auditioned in 2005 in London. The audition process is very unique and specific. My training lasted two and a half months. You start learning the character on stage. It is a brilliant place to work.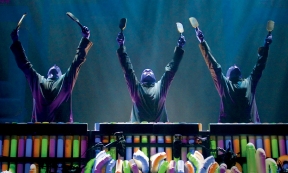 How do you go about structuring the show? What is the process behind it?
It is a theatrical magic we don't talk about. Most of it is what you see on stage. The music is all live. We play everything with the band. We have a dedicated creative team in New York.
You use gigantic GiPads in your performance. What is the meaning of that?
It's a very important fact of the show. The whole idea is we are trying to reach the audience. The blue men come from another place with a higher intelligence. They are here to connect and figure out how it all works. [The idea of] urban isolation and people attached to their phones. We make fun of people who text each other rather than just talk to them. We are not reading from a script. We are all in this room together. How we get there depends on the audience.
Do you stick strictly to the script on stage?
It's what makes the show unique. We bring members of the audience on stage. We are telling stories. When the member goes on stage we don't know what he will do. It depends on the audience. The story could be told in million ways. Creative freedom is how the character works. It's a fantastic experience.
How much training does it go into mastering the part?
You never master it. There are guys who are fantastic and even they say you never master it. There is always something different. It's a very collaborative experience. Me as a non-drummer I have to do a certain amount of work. It's a skill that needs to be practiced. Character wise, it's constantly shifting, new impulses and stories. We are always looking to keep it fresh. It's a commitment. Everybody that works is superb. The chemistry here in Chicago is wonderful. We have fantastic performers and musicians. It is a privilege and honor to be part of this group.
What would you say to someone who has never seen the show?
It is an experience. It is a funny, colorful, vibrant, visceral experience. You have to see it to believe it. It's personal to every member of the audience. It's exciting and fun. There is always something for everyone in it. It is a fantastic entertainment.
For more information on the Blue Man Group and to get tickets visit: www.blueman.com/chicago or call 773-348-4000. Tickets are available from $49-$99.