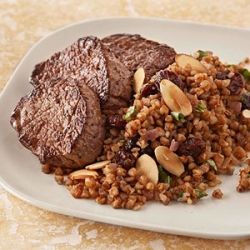 Ingredients
2/3 cup buckwheat groats,* such as Arrowhead Mills brand
2 tablespoons olive oil
1/2 cup chopped red onion (1 medium)
2 large cloves garlic, minced
1/4 cup dried cherries
1/4 cup coarsely snipped fresh basil
1 tablespoon balsamic vinegar
1/2 teaspoon salt
1 pound beef shoulder petite tenders
1/4 teaspoon Montreal steak seasoning
1/3 cup sliced almonds, toasted
Directions
1.
In a medium saucepan bring 1-1/2 cups water to boiling. Stir in buckwheat groats; reduce heat. Simmer, covered, for 5 to 7 minutes or until done (you should have about 2 cups of cooked groats). Set aside.
2.
In a large nonstick skillet heat 1 teaspoon of the oil over medium-high heat. Add onion and garlic; cook and stir for 2 to 3 minutes or just until onion begins to soften.
3.
Drain cooked groats, if necessary. Add onion mixture to the cooked groats. Stir in 4 teaspoons of the remaining oil, the cherries, basil, vinegar, and salt. Let stand at room temperature while you prepare the beef.
4.
Meanwhile, cut beef crosswise into 12 slices, each about 1 inch thick. Add the remaining 1 teaspoon oil to the same skillet; heat over medium heat. Evenly sprinkle beef pieces with Montreal seasoning. Cook beef pieces in hot oil about 6 minutes or until medium doneness (145 degrees F), turning once halfway through cooking time. Serve beef pieces over groats mixture. Sprinkle with toasted almonds.
Tip
* Be sure to purchase buckwheat groats that have been toasted.