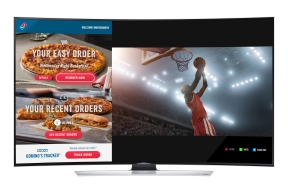 Domino's, the recognized world leader in pizza delivery, is announcing yet another new digital ordering platform. Customers and sports fans alike can now enjoy ordering via their Samsung Smart TV. This innovation is a part of Domino's AnyWare™, a new suite of technology that gives customers the ability to place an order in more ways and on more devices than ever before.
This marks the first time that Domino's ordering is available on any Smart TV. To utilize this new ordering feature, customers must have a Pizza Profile with a saved Easy Order™ or recent order, and a 2013 or newer Samsung Smart TV. Customers can also use the fan-favorite Domino's Tracker® to track the status of their order, from the moment it is placed to when it goes out on delivery or is ready for carryout.
Ordering on Samsung Smart TV joins Domino's list of AnyWare ordering options: Pebble and Android Wear smartwatch apps, Ford SYNC® AppLink™ system, and voice ordering with Dom. To learn more about Domino's AnyWare technology, visit anyware.dominos.com.