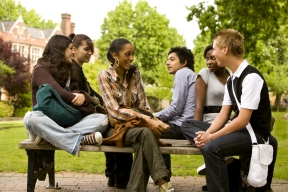 Con una de cuatro naciones con 23 millones de niños de padre inmigrantes, menores de 6 años, – número que se eleva al 28 por ciento en los 936,000 niños pequeños de Illinois – es urgente la necesidad de establecer una fuerza laboral cultural y lingüísticamente competente en el campo del cuidado y la educación temprana (ECEC). Extensas investigaciones muestran que las experiencias de aprendizaje de alta calidad en la edad temprana son críticas para el desarrollo saludable y el éxito académico de los niños. Los niños de origen inmigrante, particularmente los que hablan otro idioma en casa que no es el inglés, se benefician especialmente con las experiencias de educación temprana de alta calidad – sin embargo están inscritos en un menor número en el kindergarten que sus compañeros con padres nacidos en E.U.
Sin embargo un nuevo reporte del Centro Nacional sobre Política de Integración Inmigrante del Instituto de Política de Inmigración encuentra que los inmigrantes y la diversidad lingüística y cultural que traen a la fuerza laboral de ECEC están altamente sobrerrepresentadas en los sectores con menos destrezas y menos pagadas de la profesión. Aunque representan cerca de una quinta parte de 1.8 millones de niños de la fuerza laboral a nivel nacional, los inmigrantes ocupan pocas posiciones de liderazgo en el centro de cuidado infantil o como maestros de pre-kindergarten y están abrumadoramente más concentrados en programas familiares o en hogares privados que en el sector informal. En Illinois, los inmigrantes suman el 18 por ciento de la fuerza laboral de ECEC, habiendo aumentado en 304.5 por ciento desde 1990.
El reporte, Immigrant and Refugee Workers in the Early Childhood Field: Taking a Closer Look, [Trabajadores Inmigrantes y Refugiados en el campo de la Educación Temprana: Examinándolo con más Cuidado], ofrece un análisis, único en su clase, de la natividad en la fuerza laboral de ECEC, destrezas de lenguaje, nivel de instrucción, paga, raza/etnicidad y otras características socioeconómicas. También incluye información detallada para Illinois y numerosos otros estados con grandes poblaciones de hijos de inmigrantes.