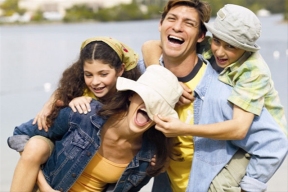 Mucha gente cree que si los padres pasan más tiempo con sus hijos es mejor para ellos. Pero los hallazgos en un nuevo estudio, publicado en Journal of Marriage and Family concluye que este no es necesariamente el caso, reporta el Washington Post.
Para el estudio, los investigadores revisaron "diarios de tiempo" de diversos niños, de 3 a 11 años, en Estados Unidos en 1997. Los científicos siguieron el estudio en el 2002 con los mismos niños como adolescentes, para evaluar sus logros académicos, su comportamiento y su salud emocional.
Después, los investigadores evaluaron la cantidad de tiempo que los padres pasaban interactuando con sus hijos. Además, los científicos incluyeron en la evaluación el tiempo en que ambos padres estuvieron presentes pero no interactuando con sus hijos.
Los resultados mostraron ninguna relación entre la cantidad de tiempo que los padres pasaban con sus hijos y los resultados positivos para los niños. "En un mundo ideal, este estudio disminuiría la culpa de los padres" por la cantidad de tiempo que pasaban y muestra en su lugar lo que es realmente importante para el niño", dijo la Dra. Melissa Milkie, PhD, socióloga en la Universidad de Toronto y una de los autores del reporte.
Pero Milkie hizo notar un hallazgo clave que mostraba cuando el tiempo que un padre pasaba con sus hijos podía ser negativo. Esto es cuando los padres (particularmente las madres) estaban tensas, faltas de sueño y sintiéndose culpables.
Sin embargo, el tiempo familiar sigue siendo importante. Varios otros estudios muestran que leerle a un niño, compartir la comida familiar y dar a cada uno de los niños su tiempo muestra, a la larga, resultados positivos para ellos.