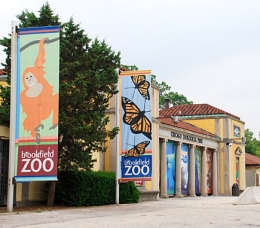 The Chicago Zoological Society (CZS) is partnering with the Wildlife Conservation Network (WCN) to bring a premier international conservation expo to Brookfield Zoo on Saturday, May 9, from 10:00 a.m. to 4:00 p.m. The daylong event will feature researchers from around the world, who will present their work and contributions to their respective fields.
Throughout the day, zoo-goers can stop by The Pavilions to meet representatives from more than 30 local, national, and international organizations, who will be on hand to share information and to engage guests on how they can get involved in a variety of environmental efforts. Organizations include African Wildlife Foundation, Alliance for the Great Lakes, Anti-Cruelty Society, Audubon-Chicago Region, Chicago Botanic Garden, Defenders of Wildlife, Forest Preserves of Cook County, Nature Conservancy-Illinois, Openlands, Peggy Notebaert Nature Museum, Salt Creek Greenway Association, and Turtle Survival Alliance.
The five lectures is $50 (students with ID pay $25), which includes admission to the zoo and a box lunch. Proceeds will benefit local, national, and international conservation efforts. Pavilions exhibits are free and open to zoo guests all day. To purchase tickets, visit www.CZS.org/Events. For further information, call (708) 688-8670 or email Expo@czs.org.