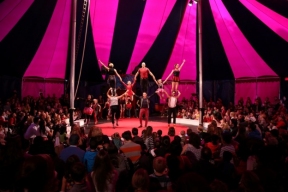 As part of inauguration weekend, Mayor Rahm Emanuel joined Chicago Park District Superintendent and CEO Michael Kelly, local arts organizations, performers and community members to kick off the third season of Night Out in the Parks at Kennicott Park. The 2015 series will include more than 1,000 cultural events and activities at parks across the city featuring neighborhood arts organizations and artists; nearly all events are offered with free admission. New this year is the launch of the My Chi ParksTM mobile application, which is available to download on Apple and Android devices. Through this app, patrons will have access to all 1,000+ Night Out in the Parks events on the go, helping them to plan a spontaneous night out. This year's offerings include events and performances by new and returning partners. Highlights include:
Movies in the Parks
June 4 – September 3
The Chicago Park District will bring big-screen entertainment to local parks for the 16th year of Movies in the Parks. The jam-packed 2015 summer lineup will feature 120 different titles in more than 200 screenings in more than 150 parks.
Chicago Shakespeare in the Parks
July 19 – August 16
Chicago Shakespeare in the Parks returns this summer, bringing Shakespeare's Greatest Hits—a music-infused mash-up of Shakespeare's most memorable scenes and characters, to 17 neighborhood parks across Chicago.
Dance in the Parks
July 15 – August 9
Dance in the Parks brings free, professional, outdoor dance concerts to Chicago's parks! The all-ages performances feature works created and performed by professional Chicago dance artists in a wide range of styles and themes and offers showcase opportunities to local youth companies. Bring your picnic dinner and enjoy the show!
Midnight Circus in the Parks
August 29 – October 18
Midnight Circus is coming to eight parks citywide presenting a true "Big Top" tent extravaganza. Celebrating community and rebuilding parks, one circus at a time. For more information, visit www.nightoutintheparks.com or call 312.742.PLAY. For more information about Night out in the Parks, visit www.chicagoparkdistrict.com or contact the Chicago Park District at 312/742.PLAY or 312/747.2001 (TTY).