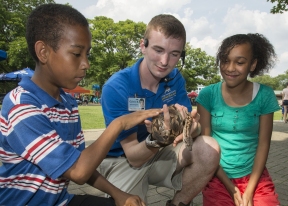 Brookfield Zoo's summertime event, Summer Nights, sponsored by Meijer and the Illinois Farm Bureau, is back and it's bigger and better than ever! The evening celebration will feature cool jams and fun activities for the whole family until 9p.m. on Fridays and Saturdays from June 5 through August 8. The zoo's East Mall main stage will heat up with a solo guitarist each night starting at 4p.m., followed by live entertainment from popular locally and nationally known bands that will feature a variety of genres, from rock and pop to country, jazz, and folk. Bands that will begin performing at 7:00 p.m. include:
Friday, June 5: Hello Weekend – A new Chicago cover band that will have you singing along and wanting more.
Saturday, June 6: Cuba Meets Puerto Rico – Salsa-singing and dancing duo that collectively have won three Grammys and received over 10 Grammy nominations.
Friday, June 12: Trippin' Billies – Dave Matthews cover band named a top-five tribute.
Each evening of Summer Nights will feature themed roaming performers from 5pm to 9 p.m., including Mardi Gras, renaissance, and pirates. Fun kids' entertainment on the East Mall kids' stage, sponsored by JULIE, Inc., starts at 6:00 p.m. and will feature music, magic, juggling displays, acrobatics, and creative storytelling. For further information about Summer Nights or a complete list, visit www.CZS.org/Events or call (708) 688-8000.