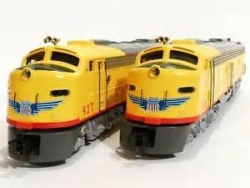 by Daniel Nardini
For those who are familiar with model railroad trains and accessories, one of the best known model railroad manufacturers still making model trains in the United States was Weaver Models. Established in 1965, Weaver Models was the last O scale train company still making its model trains in this country. Its manufacture facility was located in Northumberland, Pennsylvania, and it produced quality model trains that train enthusiasts have been playing with for decades. All that will now come to an end. This marks the end of an era—when Weaver Models started making model trains, all model trains were made in the U.S.A. (well, maybe a few were made in Japan or Hong Kong), and kids all over this country enjoyed playing with O scale trains as well as adults.
Today, the most popular train model scale is HO, although to an extant O scale is still popular. But all model trains by leading American manufacturers such as Lionel and Bachmann are now made in China. In fact, every American model train and accessories are now all made in China. Weaver was the last O scale manufacturer in the U.S. that still made their model trains here. But it stood no chance. Its model train engines would cost anywhere between $300 to $400 (the accessories being cheaper). Compare this with being able to buy whole model train sets from Bachmann for $100 to $300. Economics beat out patriotism as well as at times quality. This has been the case over and over again. With the U.S. economy still not in full recovery mode, this did not help Weaver Models.
It is not just the loss of the last O scale model train manufacturer that is tragic, but also what will happen to the facility where these model trains were made and what will happen to the employees. Some of them may be retrained, but with so many of them having worked ten, twenty and even thirty years at Weaver, it is doubtful that they can be retrained or that they can do any other job. It is more likely they will either have to retire (if that is an option in this bad economy), or they will have to work for far less pay and maybe no benefits at something totally unrelated. In so many ways, Weaver Models provided their employees with job security that is not available in so many businesses anymore. This is the real tragedy of the loss of Weaver Models—people whose lives were intimately tied with that of this company, and now that whole safety net is gone. This truly is an end of an era in so many ways.