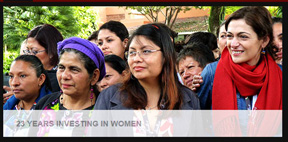 By: Ashmar Mandou
Members of Chicago Semillas, a network of people whose mission is to support Semillas in Mexico, a non-profit aimed at empowering women, is hosting a fundraiser event Thursday, July 23rd in an effort to raise awareness of women's rights in Mexico. Member Diana Alfaro talked about the mission of Chicago Semillas and how people can become involved with the organization.
Lawndale Bilingual News: What is Chicago Semillas? How long have you been a part of the organization?
Diana Alfaro: Chicago Semillas is a network of women and men who work to support the mission of Semillas in Mexico (Sociedad Mexicana Pro Derechos de la Mujer), which is to provide grants to women leaders and indigenous women's groups who are working to improve women's rights. It is a great opportunity to support a community abroad while connecting locally with other like minded individuals. I have been with Semillas since around 2010. I got involved because a colleague of mine from work invited me to an event Chicago Semillas was hosting at the Museum of Mexican Art. I fell in love with Semillas' mission and the opportunity to further support women working to improve their lives.
Semillas in Mexico helps to empower women in Mexico and give them the resources they need to live independently. What else can you tell me about Semillas so that our readers better understand its mission?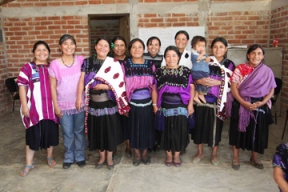 Semillas is a non-profit women's fund headquartered in Mexico City. Semillas goes beyond just providing grants to organized women's groups: they also strengthen and build skill sets, increase knowledge, and connect resources for their grantees. Semillas grantees focus their work on roots of injustice to tackle the issues head on. Semillas work involves supporting projects that promote the awareness and exercise of women's human rights. Some of Semillas focus areas are economic development, labor rights, reproductive health, and ending violence against women.
Chicago Semillas is hosting a fundraising event on Thursday, July 23rd. What can you tell me about the fundraiser, your goals, and how the city can get involved?
The fundraiser is a celebration of summer and the opportunity to support a great cause. The event will take place at Citlalin Gallery and Theater, 2005 S. Blue Island, who is graciously sponsoring our event. The event will enable people from the community to learn more about Semillas work, learn how to get involve, network with other attendees, and an opportunity to enjoy food and music. Our goal is to spread awareness about Chicago Semillas, celebrate the efforts of great work being done to fight injustices in Mexico, and hopefully raise funds for Semillas. People can donate on-line at Semillas website: www.semillas.org.mx or can get involved with us here in Chicago by emailing chicagosemillas@gmail.com or liking our facebook page. We are always looking for new members.