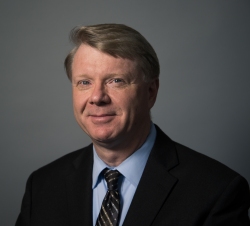 By: Ashmar Mandou
Commercial litigator Pat Heneghan announced his plans to run for Circuit Court Judge and promises to lead with an open mind and heart to anyone entering his courtroom. As a partner in the law firm of Schopf & Weiss LLP, Heneghan is more than ready to take on the responsibilities and inspire younger generations to dream big. "I believe that service in the judiciary is honorable and intellectually challenging. Clerking for Judge Vining and Judge Williams so many years ago were formative experiences for me," said Heneghan. "I appreciated at a very early point in my career the importance of having dedicated, thoughtful, fair, and empathetic men and women serve on the bench. My thirty years of practicing law has reinforced that view. We vest considerable trust and authority in our judges, and we rightly expect much of them in return. It is my hope to serve in that honorable tradition." Here is what you need to know about Pat Heneghan:
Education:
Born and raised in Chicago Pat Heneghan graduated from Southern Illinois University with a Bachelor of Science degree. Heneghan attended law school at The Catholic University of America. There he became editor of the Law Review, won four different moot court competitions, and excelled academically.
Career:
Heneghan worked with two federal judges in the years following law school. His first clerkship was with Judge Robert L. Vining, United States District Court Judge for the Northern District of Georgia. Afterwards, Heneghan clerked with Judge Jerre S. Williams, United States Court of Appeals Judge for the Fifth Circuit. Heneghan returned to Chicago to represent individuals, small businesses, and multi-national corporations as both plaintiffs and defendants. Heneghan has experience in antitrust, insurance coverage, legal malpractice, and civil racketeering, real estate, and bankruptcy disputes.
Accolades:
In the years 2011-2015, Heneghan has been recognized by Super Lawyers as one of the "Top 100" lawyers in Illinois. He has earned the distinction of being a "Super Lawyer" every year since 2005 as well as a "Leading Lawyer" every year since 2004.
Volunteerism:
Heneghan is active in volunteer and charitable activities. He is the immediate past President of the Northeast Illinois Council (NEIC) of the Boy Scouts of America, former Chairman of the NEIC Eagle Scout Committee, and a member of the NEIC Executive Board.
For more information, visit www.heneghanforjudge.com.