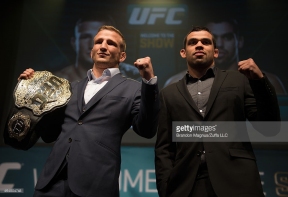 By: Ashmar Mandou
Bantamweight Champion TJ Dillashaw is about to go head to head with Brazilian fighter Renan "The Baron" Barao this Saturday night at United Center as he aims to defend his title. Lawndale Bilingual Newspaper spoke with fellow UFC fighter and Chicagoan Ricardo "The Bully" Lamas to get his take on the fight and what he hopes to see happen.
Lawndale Bilingual Newspaper: As a Chicagoan how proud are you to see more UFC fights coming to the city?
Ricardo Lamas: I love it because this is the first time it is happening during the summer. Previous fights have always happened during the winter and it's too cold for people to go out and see the fight. At least now, people can enjoy the weather and catch a good fight.
ince you are all part of the UFC family, but who would you like to see win?
You know, I would really like to see TJ Dillashaw win because he needs to prove that the first time wasn't a fluke. I want to see him go in and give it his all. I want to see both fighters give it their all Saturday night. I think they are both strong opponents so Saturday's fight will be very interesting.
What would you like to see happen?
A knockout [laughs]. I mean, I am no different than any other spectator [laughs]. That's what I would really like to see, a knockout.
What's next for you?
I'm training at the moment seeing which card I can be put on next. But for now, I am just training, no upcoming fights just yet.
What advice would you give to those wanting to become an MMA fighter?
You need to dedicate your time to training every day of the week. Find yourself a gym with trainers who will help you get to where you want to go. You don't have to necessarily find trainers who have coached MMA fighters, but find trainers who share your vision. Work hard.
UFC Fight Night
United Center, Chicago, IL
Saturday, July 25th at 5p.m.
Bantamweight Title Fight
TJ Dillashaw vs. Renan "The Baron" Barao