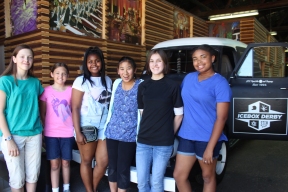 By: Ashmar Mandou
According to the Department of Commerce, 24 percent of women hold STEM (science, technology, engineering and math), which is a percentage ComEd promises to raise with the help of its innovative educational initiative, The Icebox Derby, a program designed to empower young women to explore opportunities in STEM fields.
"At ComEd, we are aware of our immense obligation to develop and maintain some of the City's most critical economic infrastructure, its electric system. Without a state-of-the-art and affordable system, we won't attract the businesses we want to build here, and, as a corollary, we won't develop and utilize our City's young talent," said President and CEO of ComEd Anne Pramaggiore. "The power grid is changing — it is becoming digital and far more complex; it is becoming much more adaptable to consumer customization. To run this system smartly and affordably, we need talent, plain and simple. And we want to choose our talent from the widest range of potential employees — our ideal workforce of the future will be pulled from the broadest most diverse pool — we want the best. We also believe that smart problem solving increases exponentially when employees with different backgrounds, perspectives and experiences sit together at the conference room table. So, we start early to insure that we will have the workforce we need in the future — if we can get these girls excited about technology and engineering at 13 or 14, we have a better chance of seeing their resumes ten years from now as we are hiring talent to run the 21st century power grid."
The Icebox Derby program works with approximately 30 young girls aged 13-18, every summer, and challenges them to build an electric car using a recycled refrigerator over the course of six weeks. The young girls, who are divided into teams of five, are also paired up with mentors to help them along their journey to the Icebox Derby Race where the young girls put their electric car to the test on August 15th at The Field Museum, 1400 S. Lake Shore Dr. "For ComEd, technology and innovation are our life blood and we are constantly looking toward the next set of technical challenges and developing the workforce who will solve these challenges. We believe it is our responsibility to create opportunities like the Icebox Derby to offer hands-on experiences to young women in the STEM subjects," said Anne Pramaggiore, President and CEO of ComEd. "As technology continues to change our world, we are dedicated to helping these young, talented women see all the possibilities that lie before them, including future careers here at ComEd."
For this group of young girls, not only is the challenge of building electric cars exciting, but also having the opportunity to meet with mentors and other girls who share the same interest, science. We caught up with some of the young girls participating in this year's challenge and asked what they love most about the Icebox Derby program.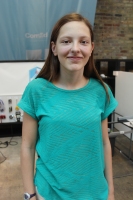 Veronica Kleinschmivt, 14
"My mom told me about the program when she saw it on the Girl Scouts website. I like science, in general, the whole building stuff on your is kind of awesome. Aside from having the chance to build something, it's nice to be with a group of girls who have a similar hobby. It's really cool to meet so many awesome people."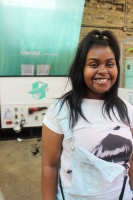 Daina Wilson, 13
"I heard about this program through another program called Girls4 Science. I love dealing with cars. I love knowing how the engine works. I love to figure out how certain parts work. To me, science and math are so interesting and fun. I had a great time working with the mentors. I definitely want to go into the science field when I attend college."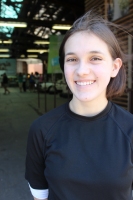 Carissa Lehning, 15
"I fell in love with the sciences in the sixth grade. Since then, I have always thought about science and math. This program has been a great experience because I learned a lot of stuff I didn't know before. Every time we get together, it's always a fun experience."
ComEd has partnered with the Girl Scouts of Greater Chicago and Northwest Indiana, Girls4Science, Chicago Urban League, and Operation PUSH. If you would like to learn more about, ComEd's The Icebox Derby, visit www.theiceboxderby.com.