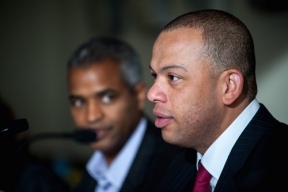 Chicago City Treasurer Kurt Summers announced two additions to his senior leadership team, including Kristi Lafleur as Deputy Treasurer, Chief Operating Officer and Miriam Martinez as Chief Investment Officer. Both new team members bring years of experience in high-level management and public service, striving to provide efficient and responsive government services for taxpayers.
"Kristi and Miriam bring invaluable experience in operations and investments from both the public and private sectors and I am thrilled to have them join our team," Treasurer Summers said. "Kristi is a proven leader, having had great successes at the Tollway and throughout her professional career. Miriam has substantial experience implementing large-scale public investment programs and has already enhanced returns on our portfolio to benefit taxpayers. I am confident Kristi and Miriam will help to carry out the mission of the Treasurer's Office as we work to invest in Chicago's neighborhoods like never before."
As Deputy Treasurer, Chief Operating Officer, Lafleur will oversee the Treasurer's office day-to-day operations and serve as Treasurer Summers' senior advisor in implementing key initiatives such as a neighborhood and infrastructure investment plan and a pension fee savings initiative with the potential to save Chicago's 11 public employee pension funds $25-$50 million a year. As Chief Investment Officer for the City Treasurer's Office, Martinez brings more than 30 years of experience to ensure the city's various portfolios achieve the highest returns while meeting established liquidity needs and investment policy standards.