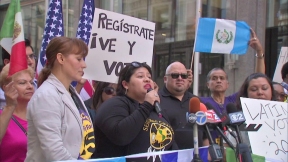 By: Ashmar Mandou
Leaders gathered in Chicago's Plaza de Las Americas Tuesday afternoon to launch an on-the-ground and digital voter registration campaign around the celebration of Latino Heritage Month. Ald. Carlos Ramirez-Rosa, SEIU Local 1 janitors, SEIU HCII healthcare workers, and the Illinois Coalition for Immigrant and Refugee Rights (ICIRR) were on site to help mobilize Latino voters.
"As a large, growing demographic group in the United States, Latinos are a potent political force with the power to shape the course of American history," said SEIU Local 1 Secretary-Treasurer Laura Garza. "However, in order to make their voices heard, Latinos must vote. During Latino Heritage Month of Action, we will run an innovative grassroots campaign to mobilize potential Latino voters. SEIU Local 1 is proud to work with Alderman Ramirez-Rosa, SEIU HCII, the ICIRR, and other partner organizations to help empower Latino families.
"The 2016 elections are critical for Latino workers like me," said SEIU HCII Homecare Worker Irma Alcazar. "From immigration reform to income inequality, our next president will have a huge impact on issues that affect Latino families. Latino Heritage Month of Action shows how our communities are ready to organize and fight for our rights at the ballot box." First launched in 2014, Latino Heritage Month of Action will hold an event on September 22 (National Voter Registration Day) and October 15th (the last day of Latino Heritage Month of Action.) For more information about Latino Heritage Month of Action, visit www.HHMAction.com or follow along on Twitter and Instagram with the hashtag #HHMA.