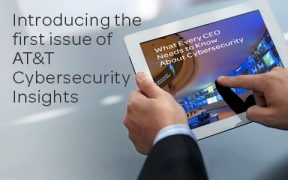 Los negocios sufrieron cerca de 43 millones de incidentes sobre seguridad en el 2014. Esto aumentó 48% comparado con el 2013 y equivale a 117,000 ataques diarios. Y todavía, muchas juntas y ejecutivos no tienen la información y los recursos necesarios para tomar decisiones efectivas sobre ciberseguridad. AT&T comparte ahora sus propios conocimientos e investigaciones en su primer Reporte de Ciberseguridad, (Cybersecurity Insights Report) en un esfuerzo por equipar a otros negocios para asegurar sus propios datos.
Basándose en décadas de experiencia operando una de las mayores redes globales, AT&T ofrece una mirada dentro de las brechas tecnológicas y operacionales en donde los ataques ocurren. "Toda compañía, o ha sido violada o será violada", dijo Ralph de la Vega, presidente y CEO de AT&T Mobile and Business Solutions. "Tener protegido un negocio debe ser la mayor prioridad de una compañía. Todo empleado, contratista y administrador es responsable por mantener una máxima seguridad". AT&T reporta que hubo un 62% de aumento en el número de ataques de Denegación de Servicio Distribuído, o ataques que interrumpen las operaciones de una compañía, en los últimos 2 años. Y AT&T ha visto un dramático aumento del 458% en el número de veces que los piratas buscan conexiones de vulnerabilidad en Internet of Things. Con el dramático aumento en la actividad pirata, AT&T cree que compartir sus conocimientos y experiencia en seguridad ayudará a otros a estar protegidos. En el primer reporte Cybersecurity Insights Report, AT&T ha delineado las amenazas primarias de seguridad que enfrenta el comercio, tanto dentro, como fuera de sus compañías:
Espionaje dentro de la corporación: Los espías buscan robar propiedad intelectual.
Estados Nacionales: Grupos buscan accesar a información para su propio beneficio o causa.
Cibercrimen organizado: Criminales digitales que actúan utilizando el 'malware' y pirateando para extraer información sobre ganancias financieras.
Hacktivistas: Grupos de piratas que utilizan ataques cibernéticos para promover cambios sociales o impactar regulaciones públicas.
Insiders maliciosos: Empleados o quienes tienen acceso interno y que usan información de la compañía para su propio beneficio.