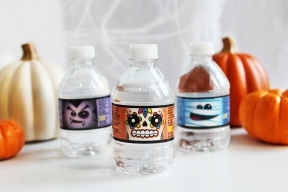 Throwing a Halloween or Día de los Muertos inspired celebration should be just as fun for you as it is for the young ones. There are plenty of ways to involve everyone in the prep and decorating process, while still enjoying some of the festive treats and entertainment. Here are a few ideas to help inspire your next spooktacular bash!
Jell-O Worms and Mummy Hot Dogs – Try out a recipe to turn your favorite Jell-O flavor into a super creepy, but tasty treat. Or update the classic Pigs-in-a-Blanket recipe to create these Halloween inspired snacks. Invite the kids to help prepare these recipes and turn snack time into playtime. Playing with your food has never been so much fun!
Día de los Muertos Cookies – Add a festive touch to your party with sugar skull shaped cookies. You can buy cookie cutters that make the process easy. Use colorful frosting and invite everyone to decorate their cookies in their own unique style.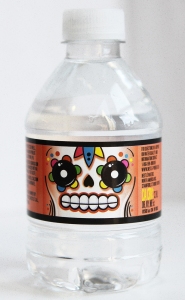 Healthy Beverages – These 8 oz. size Nestlé® Pure Life® Halloween monster/Día de los Muertos calavera bottles are a fun and healthy option to have available for kids. With holiday-inspired designs including a spooky cat, jack-o-lantern and calavera, they're an easy way to keep kids hydrated whether at a party or out trick-or-treating.
Holiday-Inspired Movies – Entertainment for your younger guests doesn't need to be too scary. You can pick from a selection of classic favorites, such as The Nightmare Before Christmas, or create new traditions with films inspired by Dia de los Muertos, such as The Book of Life.
DIY Decorations – If you're concerned about letting the young ones carve pumpkins, consider hosting a pumpkin decorating contest. You can use paints, stencils, buttons and all your favorite crafty items to create unique designs. Or use colorful tissue paper and pipe cleaners to create simple, traditional marigold flowers used to decorate altars during Dia de los Muertos.