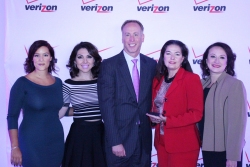 En los seis últimos años, Verizon ha reconocido el importante papel que la mujer profesional latina desempeña en la sociedad, dentro del Medio Oeste. A través del Premio Nueva Estrella Latina (NLEA) Verizon espera mostrar la dedicación, el trabajo y el liderazgo de estas mujeres ejemplares, así como la diferencia que han hecho en sus comunidades. El jueves, 1º de octubre, tuvo lugar el Almuerzo de The Sophisticates, en la Cuadra Treinta y Siete, donde fueron anunciadas cinco ganadoras del programa 'Premio Nueva Estrella Latina" (NLEA). En este exitoso evento organizado por La Semana de la Moda Latina, Verizon reconoció a las mujeres profesionales que han demostrado éxito en las áreas de tecnología, comercio, educación, salud y servicio comunitario. El comité que seleccionó a las ganadoras de cada categoría estuvo compuesto por líderes de Chicago y Minneapolis que trabajan en diversas industrias, las que incluyen compañías, organizaciones no lucrativas, servicios comunitarios y medios de comunicación. El concurso premió a cada ganadora con $1,000 y un Smartphone Verizon Wireless 4G LTE. Las ganadoras de cada categoría fueron:
COMERCIO: Ana Dutra, Presidenta y Funcionaria Ejecutiva en Jefe de The Executive Club of Chicago, de Illinois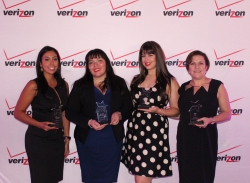 SERVICIO COMUNITARIO: Ruby Azurdia-Lee, Presidenta de CLUES, de Minnesota.
EDUCACION: Mónica Haydee Ramos, Directora de Community Engagement y Student Sucess Coach en National Louis University, de Illinois.
TECNOLOGIA: Paulette Santiago, Manufactura, tecnología, Ingeniería en DuPont, de Kansas
SALUD: Elizabeth Florez, Profesora Asistenta de la Escuela de Enfermería de la Universidad DePaul, de Illinois.