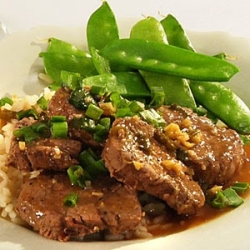 Ingredients
For the marinade
2 tablespoons low-sodium soy sauce
1 tablespoon green (spring) onion, including tender green top, minced
3 garlic cloves, minced
1 tablespoon olive oil
3/4 teaspoon five-spice powder
1 pound pork tenderloin, trimmed of visible fat
1 tablespoon olive oil
1/2 cup water, plus 1 to 3 tablespoons as needed
1/4 cup dry white wine
1/3 cup chopped yellow onion
1/2 head green cabbage, thinly sliced (about 4 cups)
1 tablespoon chopped fresh flat-leaf (Italian) parsley
Directions
To make the marinade, combine the soy sauce, green onion, garlic, olive oil and five-spice powder in a shallow baking dish. Whisk to blend. Add the pork and turn once to coat. Cover and marinate in the refrigerator for at least 2 hours, preferably overnight, turning the pork occasionally.
Preheat the oven to 400 F.
Remove the pork from the marinade and pat dry. Discard the marinade. In a large, ovenproof frying pan, heat the olive oil over medium-high heat. Add the pork and cook, turning as needed, until lightly browned on all sides, about 5 minutes. Add the 1/2 cup water to the pan.
Transfer the hot pan to the oven and roast until the pork is slightly pink inside and an instant-read thermometer inserted into the center reads 160 F. Transfer the pork to a cutting board, cover with a kitchen towel, and let rest for 10 minutes.
Meanwhile, place the pan over medium-high heat. Add the wine and deglaze the pan, using a wooden spoon to scrape up any browned bits. Add the yellow onion and cook for about 1 minute. Add the cabbage and 1 tablespoon of the remaining water. Stir well, reduce the heat to medium, cover and simmer until the cabbage is wilted, about 4 minutes. Add 1 to 2 tablespoons additional water, if needed.
Slice the pork tenderloin into 8 medallions. Divide the medallions and the wilted cabbage among individual plates and garnish with parsley. Serve immediately.