The holidays are finally here and that means great food and even better company. Everyone is familiar with the must-have Thanksgiving dishes like turkey and mashed potatoes, but it's always nice to have a little variety at the dinner table. I love to put a fresh spin on family favorites, as a member of the Pasta Advisory Council for Passion for Pasta, I love coming up with new ways to serve pasta at family meals. My family loves when I add a Latin flavor to pasta, but you can blend a variety of flavors and spices from any part of the world and make it your own. I'm excited to share a few easy cooking tips for this holiday season:
Celebrate your heritage by infusing Latin spices into traditional pasta dishes. Whether you love mole, sofrito, or chimichurri, get creative, let pasta be your blank canvas, and add your own personal touch.
Looking for a fun dish for Friendsgiving? Add a new twist to chips and guac by frying lasagna strips or bowties to create pasta chips. Pair with your favorite dip for a quick, delicious appetizer.
Food is not just about the amazing flavors but also about appealing to the eye. Make your holiday pasta dishes Instagram worthy by garnishing them with fresh basil, parsley or cilantro and a touch of shaved parmesan.
For a unique pasta holiday dish, check out this Turkey Pasta Bake recipe, a great combination of sweet and savory: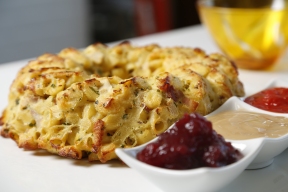 Turkey Pasta Bake
Ingredients:
1 box pipette pasta
5 slices bacon, rendered
3 cups diced roasted turkey
1 ½ cups mashed potatoes
½ cup yogurt
½ cup Parmesan, grated
1 tbs Italian parsley, chopped
5 eggs
Salt and pepper, to taste
Serve with [optional]:
Gravy
Cranberry sauce
Marinara sauce
Preparation: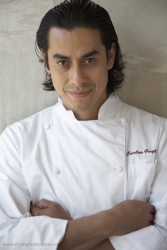 1. Cook pasta according to directions.
2. Drain pasta and mix in a bowl with all the ingredients, putting eggs in last.
3. Place in a well-greased silicon bundt pan, pressing it down a little bit. Set aside for 30 minutes.
4. Turn the oven on to 420F, and bake the bundt until it gets slightly brown around the edges, about 30 minutes.
5. Take out, let rest 20 minutes and then turn it around on a sheet pan lined with parchment paper.
6. Bake for an additional 20 minutes or until slightly brown over the top.
7. Enjoy hot, accompanied with gravy, cranberry sauce and/or marinara.
Carlos Gaytan is the executive chef and owner of Mexique restaurant located on Chicago Avenue, former Top Chef contestant, and member of the Pasta Advisory Council, part of Passion for Pasta.