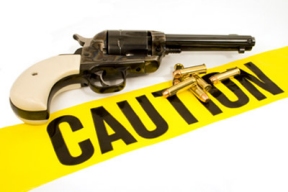 By: Ashmar Mandou
Village of Lyons set a precedent last week when Mayor Christopher Getty gave the go-ahead on an ordinance that holds gun shops accountable for illegal gun sale to "straw purchasers" upon a unanimous vote by the City Council on October 27th. The approved ordinance came straight after a lawsuit filed in July 2015 that alleged Chuck's Gun Shop in Riverdale, Midwest Sporting Goods in Lyons, and Shore Galleries in Lincolnwood, along with Westforth Sports in Gary, Indiana were responsible for firearms sold legally that later wound up in the hands of criminals. "We applaud the Mayor and City Council for doing the right thing," said Executive Director Kathleen Sances of Gun Violence Prevention Pac (G-PAC). "Passing the ordinance unanimously is a great step towards gun safety." The lawsuit was filed on behalf of the Coalition for Safe Chicago Communities with financial and backing of G-PAC.
"This is about being both practical and proactive in order to prevent the sale of guns to the wrong people," said Lyons Getty. "We stand firmly behind our partnership with our local gun shop owners and believe that by working together, positive changes can be made to ensure the safety of our communities."
According to a 2014 Chicago report, three gun shops in Cook County and an additional shop in Gary, Indiana, provided nearly 20 percent of the guns recovered in Chicago crime scenes. "When we say 20 percent that is thousands of guns. So what is happening is that guns are legally being purchased and then sold to straw purchasers or privately so they cannot be traced," said Sances. "So the ordinance set will make sure background checks occur for employers and FOID card, they [gun shops] will be required to keep a "do not sell" list of people that purchased a gun that was traced back to a crime, they will begin videotaping the "point of sale" and there will be two unannounced inspections per year by local law enforcement, in addition to the one mandated by ATF." ATF is the Bureau of Alcohol, Tobacco, Firearms and Explosives, a federal law enforcement organization within the United States Department of Justice. ATF is responsible for the investigation and prevention of federal offenses involving possession of firearms and explosives, illegal trafficking of alcohol and tobacco products.
"G-PAC provided backing for the plaintiffs because we strongly believe in the appropriate steps to discourage the illegal trafficking of guns in Lyons, Riverdale, and Lincolnwood," said Sances. G-PAC was founded to raise attention on gun safety and oppose political influence in Springfield. G-PAC developed a coalition of legislators committed to eradicating gun violence. A complete list of Gun Safety Champions can be found on www.gpacillinois.com.