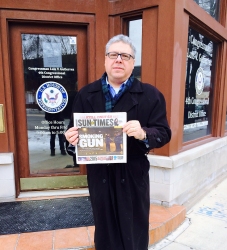 The Sun-Times reported on their review of the over three thousand new e-mails the Mayor's office released in relation to the Laquan McDonald video. The emails revealed communication between the Mayor's office and Rep. Gutierrez's office over the congressman's continued support for the Mayor at the same time the congressman was publicly withdrawing his support for State's Attorney Anita Alvarez.
"Now we know why Rep. Luis Gutierrez refused to publicly withdraw his support for Rahm Emanuel, as I asked him to do last December. He has been in collusion with the Emanuel administration's PR team regarding the fall-out relating to the Laquan McDonald shooting. Apparently, it is more important for the congressman to help Emanuel's image than to get to the truth of what happened that night," Javier Salas said. According to published reports in the Sun-Times, Emanuel was in contact with Gutierrez, co-chair of Emanuel's re-election campaign, to make sure they were "on the same page." Later in a televised interview, Congressman Gutierrez praised Emanuel's plans to set up a commission to reform the police.
"Today, in front of Congressman Gutierrez's office, I express my outrage at this unfortunate discovery which again demonstrates that Rep. Gutierrez is out of touch. Rather, than caring about the views of 4th district citizens, he is more concerned about his personal agenda and protecting the interest of wealthy politicians. I hope Rep. Gutierrez explains his priorities to his constituents," Salas ended.