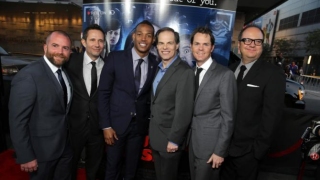 By: Amelia Orozco
Follow me on Twitter: @Amelia_Orozco
Rick Alvarez is a mega successful producer and screenwriter known for his work in movies such as "A Haunted House," "White Chicks," and recently, "Fifty Shades of Black," starring Marlon Wayans. Alvarez's original career choice was law, which he was pursing at Hastings in San Francisco. But as fate would have it, one of his professors told him he worked for George Lucas, and one introduction led to another. He moved to Los Angeles and took typical low-rung jobs to get by and learn about the business. But Alvarez's love for movies came at a young age. His Cuban-Spanish dad took him to the movies often. They would see movies like "Star Wars," "Rocky" and "Blazing Sun."
That law professor had a keen eye and told him he was meant to be a film producer. Alvarez knew that too, but that was all the confirmation he needed to head for Los Angeles. Today, work is anything but work. In a brief interview with Lawndale News, Alvarez talks about his longtime relationship with the Wayans family, the fun of writing and producing and his willingness to encourage others to pursue their dreams. "Marlon and his brothers are brilliant," says Alvarez. "Our partnership has lasted seventeen years now. We have made a lot of really fun movies together. There is the business side, of course, the writing and creating, too," he adds. "No one loves what they do more than Marlon and it rubs off. I'm excited for Mondays to go to work," he says.
For "Fifty Shades" he and Marlon watched the original movie several times and they would sit and write jokes, thinking about crazy ideas. "We are texting back and forth, always working," he says. Currently, he is working on a pilot project with Marlon for a movie based on his life for NBC. When asked how he makes the fun on the screen look so easy despite the long hours that go into production, he simply states it come down to hard work and he likes to share his philosophy. "Anytime I have the opportunity to help or teach a film class, I do. They need to know this is possible," he says, referring to his career choice. "It is attainable. You need hard work, perseverance, and you have to be passionate. It is achievable," he shares.
"Fifty Shades of Black" is a parody, which stars Marlon Wayans as Christian Black, the self-made man with a deficiency in the lovemaking department. The movie hits theaters on January 29, 2016.
(photo caption: Writer and producer Rick Alvarez (left) of Marlon Wayans.)