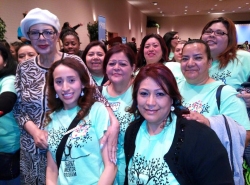 By: Ashmar Mandou
A pool of influential leaders, including State Representative Elizabeth Hernandez and State Representative William Davis participated in the annual Statewide Parent Mentor Convention at Banquet Hall Apostolic Church Monday morning where they met with over 700 Parent Mentors, who work over 14,000 students across Illinois. It was a celebration for parents whose diligent work has not gone unnoticed by a slew of elected officials and Keynote Speaker Chicago Teachers Union President Karen Lewis who said, "parent mentors your daily work in the classrooms is very valuable," in front a fervent crowd.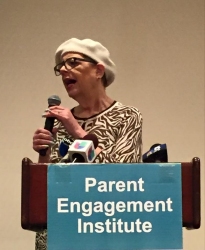 The Parent Mentor Program was developed by the Logan Square Neighborhood Association (LSNA) in 1995 aimed to increase parent engagement in classroom settings. Initially, the program grew from one school to 70 schools working with 16 community based organizations, including Brighton Park Neighborhood Council, Enlace Chicago, Family Focus Aurora, Logan Square Neighborhood Association, The Resurrection Project, and Southwest Organizing Project to mention a few. As a nationally recognized program, parents are recruited and trained to.
Although state funding is nonexistent for the program, parent mentors reiterated their stern commitment to sustain and expand the program, 'no matter what.' During the convention, parents, community leaders, and school staff recognized the achievements of the parent mentors, shared stories of personal and school transformation, and participated in workshops, including racial equity in education, college readiness, social media, and community mental health. "Without the parents in the classroom assisting the teachers like us and the students, I don't think that my scores would have been off the charts as they were," said First Grade Teacher Ms. Tayler at Hughes Elementary in Chicago.