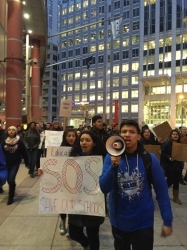 By: Ashmar Mandou
Students attending various public schools around the city kicked off their weekend with a gathering on Friday afternoon in front of the Thompson Center to show unity for schools severely affected by funding cuts. "These cuts are unacceptable and unwarranted. The day we, the students, sit idly by and let Rahm Emanuel, Bruce Rauner, and Forrest Claypool fire our teachers and cut our school budgets is the day we lose the fight for a decent education. We aren't done fighting," said Student Organizer Charles Kotrba.
"The elected officials and unelected board of Chicago get a failing grade from CPS students. With the 2013 school closures, the incessant charter expansion, and now these monstrous budget cuts, students have had enough. We are fed up and demand that public education be the number one priority in Chicago," said Student Organizer Nidalis Burgos. Hundreds of students shared expressed their disappointment after CPS schools received word that individual budgets will be required irrevocably impacting learning environments of students in marginalized communities.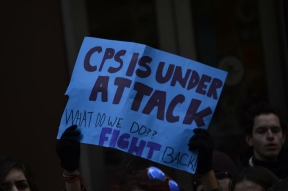 Upon hearing the announcement that several charter schools are slated to open by 2018, CPS students promised to continue fighting for proper representation for Chicago public schools and the prevention of further staff layoffs. With well over 300 CPS students participating in the fight, plans for future rallies are in the works.