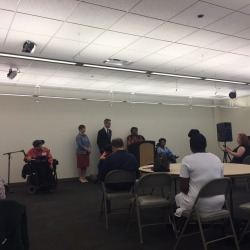 As Governor Rauner's imposed May 1 deadline for a new DHS Overtime Policy impacting nearly 9,000 people with disabilities and 8,600 home healthcare providers approaches, State Senator Daniel Biss, State Representative Jaime Andrade, and those impacted in Chicago will held a press conference on Monday at Access Living to call on Governor Rauner to stop this harmful policy.
The State of Illinois plans to enforce a strict cap on hours starting May 1, forbidding home healthcare providers from working over 40 hours per week, regardless of what the person with a disability they serve may need, except in a few extraordinary circumstances. This policy, activists believe is an effort to evade new federal rules extending overtime protections to home care workers that took effect on January 1, 2016. Without any assistance or support from DHS, individuals with disabilities who have service plans that call for more than 40 hours of home care services per week – nearly 9,000 people statewide – are responsible for locating and hiring additional home care workers so the State can avoid paying any overtime.
Local advocates, people with disabilities, home care workers, State Senator Biss, and State Rep. Andrade plan to call on Governor Rauner and DHS to stop this policy before it wreaks havoc on the lives of thousands of people with disabilities and home healthcare providers.