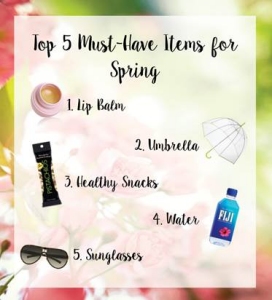 Spring season has finally arrived and we know that you already have in mind the places you'd like to visit! However, it's very important to be prepared ahead of time and carry certain items to make your life easier. Whether you're planning to enjoy a nice day out at the park or a small picnic with friends, we wanted to suggest you these top five must-haves for this time of the year:

1. Lip balm – Dry lips are not comfortable or cute at all! This is why the #1 rule is to always carry your lip balm with you to keep your lips looking soft and healthy, especially after the cold winter days!
2. Portable umbrella – April showers bring spring flowers, so you better carry a small umbrella with you all the time if you want to enjoy the rain without getting soaking wet.
3. Wonderful Pistachios Roasted and Salted Snack Pack – Remember it's always important to carry healthy snacks to avoid any temptation. Instead of eating a bag of potato chips (which you'll most likely regret later) grab a heart-smart snack, and enjoy a great source of protein and fiber that only has 100 calories.
4. A bottle of water – Water is essential to keep you hydrated without adding extra calories to your diet, and it will also make your skin look good! A small bottle of 500 ml FIJI water is perfect size to fit any handbag or backpack.
5. Sunglasses – Last, but not least… Don't forget to protect yourself from the sunlight and rock your favorite shades!