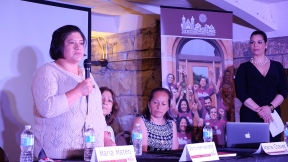 By: Ashmar Mandou
The Chicago Community Trust revealed that more than 55,000 people across the city partook in the third annual On the Table initiative on Tuesday, May 10th. With various discussions taking place from Jane Addams Hull-House Museum, to Kelly High School, to St. Paul Church, On the Table is designed to bring salient issues to the forefront with the hope for long-term resolution and to create a sense of unity. "The Trust launched On the Table in 2014 to elevate the invaluable act of convening for meaningful conversation, and since then we have been overwhelmed by the region's enthusiasm to be part of this effort," said Terry Mazany, president and CEO of The Chicago Community Trust. "Participation has grown each year, bringing with it an expansion of ideas and commitments from residents to work together to make a difference in their neighborhood, their community and their region." Each site hosted a different topic for discussion. Students of Kelly High School touched upon mental health issues in honor of Mental Health Awareness month with the help of Mikva Challenge and Lurie Children's Hospital, Project 375 and the University of Chicago.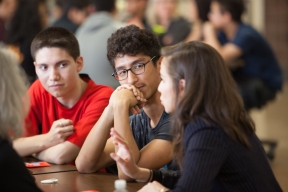 The Resurrection Project in conjunction with The Chicago Sunday Evening Club also hosted an On the Table discussion on Tuesday at St. Paul Church, 2127 W. 22nd Pl., with mothers who have lost children to gang violence in Latino communities. "This year, we honor the mothers from various parishes in our Latino communities who have not only lost children to violence, but are working tirelessly for peace and social change in their communities," said Henry Cervantes, The Resurrection Project's safety organizer. Panelists at this discussion represented women from the Pilsen, Little Village, and Back of the Yards communities. Maria Mateo, St. Pius V, Pilsen; Doris Hernandez, St. Agnes, Little Village; and Maria Chavez, St. Josephs, Back of the Yards each shared their personal account of how their family was affected due to gang violence. The dialogue focused on how to put faith and values into action to create healthy, safe, and peaceful communities. The discussion landed on a poignant date for Mexicans as it is a day of observance to commemorate and honor motherhood. Since 2014, On the Table thousands of Chicago-area residents have participated, shared meals, discussed challenges and opportunities in an effort to stir conversation on a larger scale. If you would like to learn about On the Table or host an event next year, visit onthetable.com.
PHOTO CAPTIONS:
Kelly High School students discussed mental health issues during an On the Table event on Tuesday, May 10th with the help of Mikva Challenge, Lurie Children's Hospital, Project 375, and the University of Chicago. Photo Credit: The Chicago Community Trust
Chicago-area residents gathered at St. Paul Church to discuss ways to keep communities safe from gang violence. Photo Credit: Luiz Magaña.