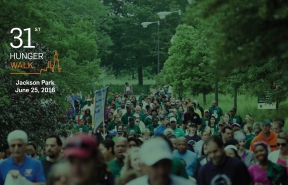 On Saturday, June 25, thousands will gather at Chicago's historic Jackson Park for the Greater Chicago Food Depository's 31st Annual Hunger Walk. The family-friendly event is a two mile walk along the shores of Lake Michigan, raising awareness for hunger in our community while benefiting food pantries, soup kitchens and shelters across Cook County. The Annual Hunger Walk is Chicago's largest anti-hunger rally and attracted more than 14,000 supporters last year.
"Over the last thirty years, the Hunger Walk has stood as a powerful message by our community that no one should go hungry," said Kate Maehr, Food Depository executive director and CEO. "It's an incredible way to raise our voice and make an impact for our network of pantries, soup kitchens and shelters in just a single day." The Hunger Walk is a fun opportunity for families, businesses, individuals and organizations to join the fight against hunger. As many as 15,000 walkers are expected to attend this year's event, which will include a morning of festivities and entertainment for the whole family.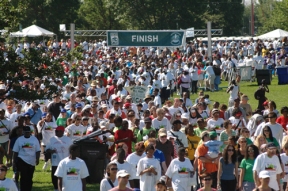 As this year's Hunger Walk approaches, the Food Depository continues to respond to a high need within our community. Each year, the Food Depository's network serves more than 812,000 individuals – 1 in 6 in Cook County. Premier Sponsors for the 31st Annual Hunger Walk include ABC 7 Chicago, ConAgra Foods, Griffith Foods, Jewel Osco, the Kraft Heinz Company and Tyson Foods, Inc. The Hunger Walk steps off on June 25 at 8:30 a.m. Registration opens at 7 a.m. For more information or to sign up, visit chicagosfoodbank.org/hungerwalk or call 773-247-3663.