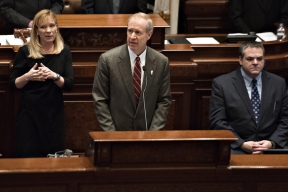 El estado de Illinois ganó $7.8 millones menos en ingreso de inversiones el primer trimestre del 2016 como resultado del estancamiento del presupuesto, dijo el Tesorero de Illinois, Michael Frerichs el martes. Eso se traduce en proyectadas pérdidas de ganancias de $31.2 millones para el 2016. Amenazas de desaparición de fondos no planificados y la necesidad de pagar cuentas de corte requerido por la oficina de la tesorería para hacer inversiones a corto plazo, que priorizaran la disponibilidad de efectivo en vez de oportunidades de inversiones a largo plazo. "Un presupuesto en un plan de gastos. Sin un plan de gastos es muy difícil saber que dinero se necesita para operaciones básicas del gobierno y que dinero para inversiones normales", dijo Frerichs. "La ley requiere que tengamos dinero disponible para pagar las cuentas. La inhabilidad para planear adecuadamente inversiones saca dinero de los bolsitos de todos en nuestro estado, dañando principalmente a quienes se encuentran en el margen, como los pobres, los ancianos y los niños".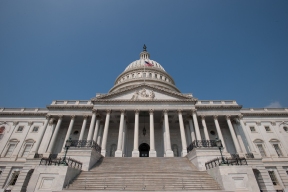 Metropolitan Family Services of Chicago está entre los proveedores de servicios que esencialmente ha prestado dinero al estado de Illinois, porque el estado no ha pagado sus cuentas. "Para finales del año fiscal 16, se le deberá a Metropolitan $2.6 millones del estado de Illinois por servicios contractados que no han sido pagados. Para mantener los servicios principales abiertos, nos hemos visto forzados a poner un tope a nuestro propio crédito y servir como prestamistas involuntarios a Illinois. Todo el año, familias de bajos ingresos y proveedores sin fines de lucro han sufrido, pagando facturas por problemas que no crearon. La falta de presupuesto del estado es una falla estructural y está dañando nuestra economía, dañando a miles de personas y causando un daño irreparable a comunidades atendidas por organizaciones como Metropolitan Family Services", dijo Taneka Jennings de Metropolitan Family Services.
"Nuestra agencia ha tomado ya la penosa decisión de descontinuar los programas Acute Community Services, Parents as Partners y All Our Kids. Si el pago no se recibe para el 30 de junio del 2016, nos veremos forzados a cerrar cuatro programas adicionales – Community Integrated Living Arrangement (CILA), Mental Health Juvenile Justice, Safe from the Start y nuestro programa de los sectores sudoeste y norte, Healthy Families. Más de 800 clientes dejarán de recibir los servicios y se perderán 30 empleos". El análisis compara la asignación global de activos y plazos de vencimiento entre marzo del 2015 y marzo del 2016.