By: Ashmar Mandou
Elected officials joined volunteers and staff of Lakeview Pantry for a ribbon-cutting ceremony to celebrate the permanent home of the Lakeview Pantry, which has served the city's north side for over 40 years. "Ensuring access to fresh, healthy foods is another way that we are helping Chicagoans who need the most help, so I want to thank Lakeview Pantry for being an important partner with the City in that effort," said Mayor Rahm Emanuel. "For years, the Lakeview Pantry has brought fresh, healthy food and social services to Chicagoans who need them the most. Their new permanent home will allow them to better serve our underserved residents and help more Chicago neighborhoods to thrive."
The pantry's new 7,500 square foot building, located at 3945 N. Sheridan Rd., offers ample space for food distribution and social service programs. Formerly located on North Broadway, the pantry launched a capital campaign in 2012 to help raise funds to move into a larger facility. Lakeview pantry managed to raise $3.1 million of its $3.5 million goal. "Thanks to tremendous donor support, IFF loan services and our wonderful volunteers, we are forging a new chapter for the pantry which will allow us to better serve those in need," said Executive Director Kellie O'Connell. "Our previous space was too small to adequately meet the needs of people in Lakeview and surrounding communities. We are grateful to expand our impact in the community and put down enduring roots."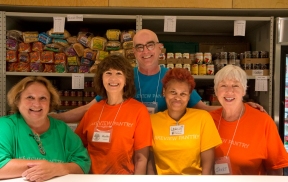 One in nine people struggle with hunger and every year, Lakeview Pantry distributes over 1.6 million pounds of food or 1.3 million meals to about 7,000 households. Only three percent of the pantry's clients are homeless, and 45 percent have children under the age of 18. "People think only the homeless need food, but that's not the case. I've learned even people who have jobs and apartments sometimes need help," said Gabriela Montoya, 41, a client and volunteer. Montoya's husband works full time, yet the couple can't always afford basic necessities and depend on the pantry for food for themselves and their two children, ages 11 and 12. "I love the Lakeview Pantry because I know it's a salvation for many families."
Residents are able to select fresh fruits and vegetables, meats, canned goods, and much more. The second floor of Lakeview Pantry is committed to social services and features access to caseworkers to meet with clients to assess daily needs. To learn more about Lakeview Pantry, visit lakeviewpantry.org.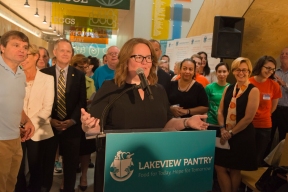 PHOTO CAPTION:
Lakeview Pantry cuts a 'grocery bag' ribbon to celebrate the grand opening of its new, permanent home. Pictured from left to right: U.S. Congressman Mike Quigley, Illinois Senate President John Cullerton, Lakeview Pantry Board President Dan Laytin, State Representative Sara Feigenholtz, Chicago's First Lady Amy Rule, Greater Chicago Food Depository Executive Director and CEO Kate Maehr, and Lakeview Pantry clients and volunteers.
PHOTO CAPTION 2:
Lakeview Pantry Executive Director Kellie O'Connell welcomes elected officials pantry staff, volunteers and clients to the grand opening celebration of the pantry's new 7,500 square foot building, located at 3945 N Sheridan Road. Lakeview Pantry is the largest food distribution center in Chicago, serving more than 7,000 households.