The City of Chicago Department of Business Affairs and Consumer Protection (BACP) offers free business workshops every Wednesday and Friday at City Hall, 8th Floor. To register for a workshop call 312-744-2086. You may also register by emailing, BACPoutreach@cityofchicago.org.
9/2 Legal and Practical Considerations of Starting a Nonprofit
9:30 to 11:00 a.m.
Presented by Jody Adler, The Law Project of the Chicago Lawyers' Committee for Civil Rights under Law
Learn the ins and outs of starting a nonprofit charitable organization. This workshop covers the legal structure for a nonprofit and how it differs from a for-profit or low -profit organization, the legal steps to obtain income tax exemption and the on-going reporting requirements.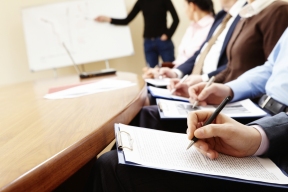 9/7 *City Inspections – Ask Questions, Get Answers
3:00 to 4:30 p.m.
Presented by the City of Chicago
To operate a successful business in Chicago you need to know what it takes to maintain compliance. Officials from several City departments will provide insight to operate safely, stay compliant, help prepare for inspections and highlight the do's and don'ts of operating a business.
9/9 How to Write a Business Plan – What you Need to Know!
9:30 to 11:00 a.m.
Presented by Donna R. Rockin, Executive Director, Jules F. Knapp Entrepreneurship Center at IIT
Learn how to create a comprehensive business plan. It's easier than you think when you understand all the components that get included. You'll receive a complete list of what to include to demystify the process. Writing a solid business plan is your roadmap to business success.
For the complete list of seminars visit the BACP's website.