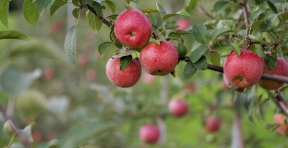 Compiled by Ashmar Mandou
Apple Holler
There is certainly no shortage of what you can do at this orchard. The dwarf trees in the U-pick area require no ladders for picking. After you gather your apples, check out the restaurant, a theater for musical productions, mazes and puppet shows.
5006 S. Sylvania Ave
Sturtevant, WI
Kuipers Family Farm
Take a hayride to the orchard, where visitors fill bushel baskets with more than 20 varieties of apples, including McIntosh, Jonathan and Granny Smith. The return trip drops you at the general store stocked with pies, caramel apples and cider doughnuts.
1N318 Watson Rd
Maple Park
Plank Road Orchard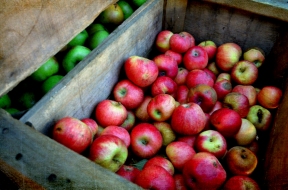 Located minutes from Elgin, this low-key spot offers plenty of U-Pick apples, cider and on the weekends yummy apple pie and other baked goods. There is a porta-potty at the orchard but nothing else, so plan accordingly. Season starts the end of August and runs through the end of October or early November depending on the weather.
50 W. 737 Plank Road
Sycamore
Royal Oak Farm
Royal Oak has more than 12,000 trees and 26 varieties of apples, plus late-summer raspberries. The orchard provides containers for pick-your-own types, and the store features doughnuts, caramel apples, pies and a Royal Oak specialty: apple-cider slushees
15908 Hebron Rd
Harvard
Pumpkin Farms
Goebbert's Pumpkin Farm and Garden Center
Gear up for your Halloween at the farm's Fall Harvest Market, stocked with pumpkins and other fresh vegetables culled from Goebbert's 200-acre farm. Visit the Animal Land, featuring 50 different creatures, or enjoy pony or camel rides ($5). Sweet treats from the on-site café are also in the mix—including housemade fudge.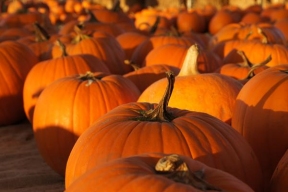 40 W. Higgins Rd
South Barrington
Bengston's Pumpkin Farm
Apple-cider doughnuts, award-winning barbecue and funnel cakes—and that's just the food! Kids will love the Bengtsonville kids village, a little town just for them, in addition to all of the kiddie rides, slides and games.
13341 W 151st St
Homer Glen
Dollinger Family Farm
A pumpkin patch with a side history lesson, this farm, 50 minutes from the Chicago area houses an old barn that's on the National Register of Historic Places. In addition to pumpkin farm family favorites like petting zoos and hayrides (weekends only), the farm also hosts both Revolutionary and Civil War reenactments in October.
7420 East Hansel Road
Channahon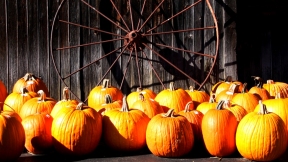 Corn Mazes
Heap's Haunted Corn Maze
If your kids appreciate a good scare, this haunted maze is heaps of fun. The technical difficulty of this night-only haunted thriller is not the only rush—you also need to watch out for ghosts and goblins. For the scare-averse (and those younger than 12), you can still have fun at the flashlight maze—it's more puzzle than panic. End the day with a moonlight hayride. The maze is open select dates in September and October from 7 to 11pm. You can do the haunted maze, flashlight maze and moonlight hayride—all for $17.
Konow's Corn Maze
This amusement filled corn maze offers options for both the large and small set. The big corn maze is 3.4 miles long with tons of twists and turns for an extra challenge. For the little ones a smaller, less daunting maze still gives the appeal of running through corn fields but at only .4 miles in length. A petting zoo, giant corn pits, concessions and an Old West town make this a worthy drive for a full day of activities.