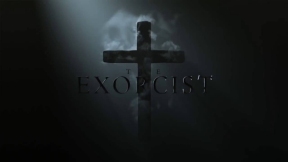 FOX Series Premieres Friday, September 23
By Amelia Orozco
Twitter: @Amelia_Orozco
There is a space in our minds where the horror of The Exorcist has lived since we burned it into our psyche so many years go. Some tend only to visit it when in the mood for a fright fest. Now, thanks to FOX and a voracious following, the terror will be extended over weeks as the new series, The Exorcist, launches this week. Lawndale News spent a day on the set and learned a bit more about the series straight from some of its cast.
Created by Jeremy Slater and directed by Rupert Wyatt, the storyline is adapted from the 1973 classic, but has a pleasingly fresh approach and cast. A young girl begins to experience strange episodes of possession. Her mother, played by Academy Award winner, Geena Davis (Commander in Chief, Thelma & Louise), seeks the help of the church. In this case, it's a parish in a Chicago suburb, and Mexican actor, Alfonso "Poncho" Herrera interprets the part of Father Tomas Ortega, played by the English stage actor, Ben Daniels.
An old-school priest and longtime defender of the faith, Father Marcus Keane, together with the more progressive Father Tomas, attempt to squelch the evil within the walls of the family's home, although at times butting heads with each other. "The vision of FOX is to have a multicultural show," shared Herrera. And so it seems they have accomplished just that and more with the variety of faces and accents heard throughout the set.
When we asked Alfonso about what he believes, or if his belief has changed during the course of this, he shared, "I believe there is light and darkness, and we have to appreciate that a duality could exist." Ben Daniels shared that he loved researching the topic. "I read an awful lot," he says. "The stories are compelling. The priests always kept diaries. I read a couple of stories that kept me awake at night," As far as exorcism in different cultures, he says, "I believe it happens in every culture."
Alan Ruck (Spin City, Ferris Beuller's Day Off) and Geena Davis are the parents, Henry and Angela Rance. Hannah Kasulka and Brianne Howe play the girls, Casey and Kat Rance. Off screen, Hannah shared, that the two have settled in quite nicely in Chicago during the filming of the series. They spend a lot of time together living in the same building on the Gold Coast. This was the first time in the Windy City for Hannah, a Georgia native.
As for Alan Ruck, originally from Ohio, he feels right at home. He graduated from the University of Illinois in 1979, where he majored in drama, and immediately moved to Chicago to start his acting career. Of his character, Henry, he says, "He suffers from a brain injury that puts him in a lucid state and in a bed for long periods of time sleeping." These qualities can certainly set of heavy mood over the Rance household and it lends itself to the story as he experiences random episodes of cataplexy, a medical condition causing strong emotions and sometimes laughter to the point that the person can collapse and appear unconscious, but is fully aware of his surroundings. "The writing for this show is extraordinary," he shares.
The cast is thrilled to work together, in that even though they are dealing with very dark themes, they quickly switch off when the camera stops, and they easily joke around and have lots of fun together. But you wouldn't know it by watching the trailer.
Get caught up in The Exorcist, Fridays, 8/9 CST on FOX.