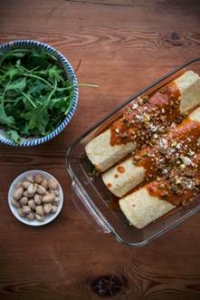 This September 16, mark your calendar and join Mexico's most important holiday: the celebration of its independence! And what better way to do this than with one of the most emblematic traditional dishes in the Mexican cuisine, Chicken Enmoladas! Giving it an unexpected twist, Wonderful Pistachios created an exquisite recipe that promises to bring everyone to the dining table with a big smile while feeding the spirit of fiesta and all things beautiful. Wondering what the twist is all about? Check out the recipe below.
Wonderful Pistachios Chicken Enmoladas
Prep: 15 minutes / Time to Table: 35 minutes / Serves 6
Ingredients:
3 chicken breasts
2 cups mole sauce
12 tortillas
2 cups shredded pepper jack cheese
1 cup crumbled cotija cheese
2 cups arugula
8 radishes, thinly sliced
½ onion, thinly sliced
2 tomatoes, sliced
Olive Oil
Salt & Pepper
½ cup sour cream
1 cup shelled Wonderful Pistachios Roasted & Salted
Preparation:
1. Preheat the oven to 375°F. On a parchment-lined baking sheet, sprinkle the chicken with salt and pepper and drizzle with the olive oil. Bake until cooked through, 10-15 minutes. Set aside to cool, then cut into small pieces.
2. In a small saucepan, warm mole sauce.
3. In a cast iron pan, warm tortillas over medium-low heat.
4. Spread a spoonful of mole sauce over each tortilla.
5. Divide chicken evenly among tortillas. Sprinkle each with cheeses, arugula, radishes, onions, tomatoes, Wonderful Pistachios and a dollop of sour cream. Roll up each tortilla and top with a generous amount of mole and cotija cheese.