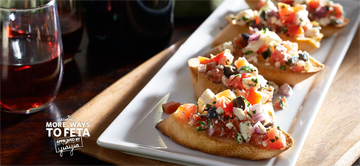 Ingredients:
1 French bread baguette (16 oz.), cut into 36 slices
2 Tbsp. oil, divided
7 plum tomatoes, chopped (about 2-1/2 cups)
1 pkg. (4 oz.) ATHENOS Traditional Crumbled Feta Cheese
½ cup finely chopped red onions
2 Tbsp. chopped basil
1 Tbsp. chopped black olives
¼ tsp. pepper
Directions:
Heat broiler.
Broil bread slices 2 to 3 min. on each side or until lightly toasted on both sides. Brush evenly with 1 Tbsp. oil.
Combine remaining ingredients with remaining oil.
Spoon onto toast slices just before serving.