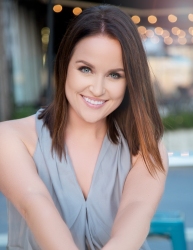 By: Amelia Orozco
Twitter: @Amelia_Orozco
Prepare to laugh out loud at "Halloweed," the funny horror flick you must watch this Halloween. Lawndale News spoke with one of its stars, Michelle Mueller, to get an idea of what to expect and learn more about her and her personal pursuits. Mueller attended the Chicago of Performing Arts where she obtained her BA in Fine Arts, and quickly started working on commercials and even had a role on the hit series, "Chicago Med."
Michelle, how did you become interested in acting?
As a kid, I had some learning difficulties and my parents decided to get me into acting classes. It helped because of all the memorization I was doing. They also enrolled me in Martial Arts to boost my confidence.
Where did you grow up?
I'm from Nebraska, and my family still lives there. They own a billiard supply business.
How has your family reacted to the film?
My family owns the entire Scary Movie franchise and are super excited. We only had three channels growing up so this will be another to add to the collection.
You mentioned that the role you play in "Halloweed" is a lot like you, how is that?
When I got the part I just had to laugh because it was like typecasting me, a country girl.
How do you use that to your advantage?
I used a lot of my personal experience and then went by how I would react.
What are some of the organizations or causes you are personally involved with?
My aunt is a breast cancer survivor and ever since middle school we have always been involved in walks or anything we could do with that. I also spend a lot of time with my sister and niece making handmade greetings for "Cards for Seniors," which we send to the elderly during the holidays and other special occasions.
You got to work with a great Latino actor, Danny Trejo, how was that experience?
He is a really cool, nice guy and so talented. He also does a lot for people.
Start streaming "Halloweed," a comedic thriller with murder, mystery and marijuana. It's sure to become part of your Halloween tradition. "Halloweed" opens on October 18th nationwide on VOD and Cable on Demand.