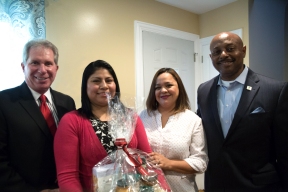 By: Ashmar Mandou
Chicago resident Susan Tovar has much to be thankful for this holiday season. "My little one gets home from school, and goes right out to the backyard and plays," said Tovar, a single mother with three children. "I watch him through the window. That means so much to me."
This is the first time that Tovar will have a home for the holidays, and she is counting her blessings. She was also among the recent CHA residents who purchased a new home as the agency's Choose to Own (CTO) program recently marked its 500th closing. The CTO program allows qualified public housing families or those participating in the Housing Choice Voucher (HCV) program to use a portion of their rent payments to accumulate equity and offset a portion of their mortgage – the same way a voucher is used to offset a portion of rent. Through a variety of community partnerships, participants are provided a comprehensive support network that includes financial assistance, homebuyer education, credit counseling and other services that help the families navigate the process and increase their chances of success as a homeowner with the help of counseling agencies like Latin United Community Housing Association and Spanish Coalition for Housing.
"Congratulations to Ms. Tovar on this major accomplishment," CHA CEO Eugene Jones, Jr. said. "It's not easy to make the sacrifices required for this program, but Ms. Tovar – and 500 other residents and participants – have done it, and it is a great achievement. We are happy to provide the services needed to help residents and voucher holders navigate the process of homeownership and become examples of self-sufficiency. I couldn't be more proud."
Tovar began trying to purchase a house several years ago, but was laid off from her job. She found out about CTO later, but knew one of the requirements was employment. So, during that time, she worked on her credit, saved up money, and then finally joined the program. When she landed a job with Easter Seals as a case manager, she was ready. "It was very difficult because I had to attend workshops, meetings and trainings, and also be a full-time student and full-time worker and I'm a single mom with three children – two of them teens and one six years old," Tovar said. "There were several times that it seemed like too much to handle. It was a lot of stress." But she stuck it out. And now, she is the proud owner of a new home. "Getting a house of my own was very emotional," she said. "It's a big accomplishment."
Caption:
Homeowner Susan Tovar (center) of Chicago's Southwest Side is joined by Chicago Ald. Michael Zalewski (23rd Ward) (far left), Samantha Arroyo, Homeownership Counselor at The Resurrection Project and CHA CEO Eugene Jones, Jr. as they congratulate Ms. Tovar for becoming a homeowner through the CHA's Choose to Own program which enables qualified public housing and housing choice voucher residents to become homeowners.