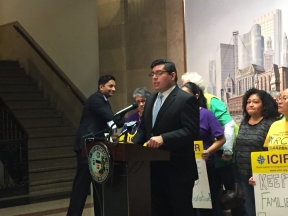 By: Ashmar Mandou
In the aftermath of the November 8th Election, immigrant rights activists are forging together to make immigration policy a priority in City Hall. On Wednesday morning, Alderman Carlos Ramirez-Rosa, members of the Asian Americans Advancing Justice-Chicago, Organized Communities Against Deportations, the Illinois Coalition for Immigrant and Refugee Rights, and Mujeres Latinas en Acción spoke in support of the City's "sanctuary" status and encouraged City Council pass various measures reaffirming the City's commitment to maintain a welcoming city of immigrants. Activists introduced several measures the City can apply to strengthen the 'support and defense of immigrant Chicagoans.' Some of the measures include:
Defend and strengthen the Welcoming City Ordinance: Chicago is one of many cities across the country that have limited its local law enforcement's collaboration with Immigration and Customs Enforcement (ICE) in order to protect undocumented residents from deportation and to prevent being detained by ICE. President-Elect Donald Trump has threatened to take away federal funding for so-called "sanctuary cities." In order for the Mayor to live up to the commitment that Chicago remain a city that welcomes immigrants, Chicago has an opportunity to strengthen the ordinance, including removing categories of individuals exempted from protection under the Ordinance, and treat all residents fairly and equally in the City of Chicago.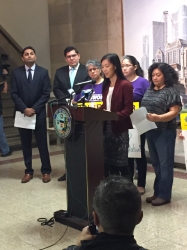 Improve emergency response systems for immigrants and people with limited English language proficiency: Establish greater response procedures to address hate crimes on immigrants, including making resources available for immigrants to access important legal information, such as whether they would qualify for a U visa, a visa that improves law enforcement's ability to investigate and prosecute crime and also protects immigrant survivors of crime. In addition, because there is currently a backlog of U visa certifications in Chicago, the City should alleviate the burden on the Chicago Police Department by expanding U visa certification to other qualifying municipal agencies. Additionally, the City must ensure emergency services are equipped to assist people with limited English Language proficiency. Although the City is in the process of making language access a priority, emergency services and 311 operators are still not equipped to assist non-English speakers.
Designate municipal institutions, such as schools, police departments, and city buildings as safe "sanctuary" spaces for undocumented immigrants: Even with a strong Welcoming City Ordinance or "sanctuary" city policies, immigration enforcement by federal agents will continue to take place in Chicago. ICE and other federal law-enforcement agents can still target people living in Chicago for home raids and deportations. Currently, there is a national call for universities around the country to be designated as sanctuary spaces as a way to defend undocumented students from deportation. The city should designate certain municipal institutions as sanctuary spaces, should undocumented immigrants need a place for protection