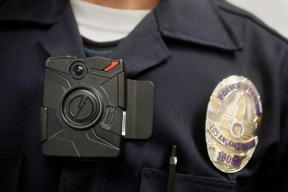 By: Ashmar Mandou
Mayor Rahm Emanuel and Police Department Superintendent Eddie Johnson on Wednesday announced the Chicago Police Department (CPD) will expedite its body worn camera expansion to every patrol officer in the City. By the end of 2017, patrol officers in all police districts in Chicago will have body cameras – one full year earlier than originally planned. "Body cameras, while not a panacea, are a win-win for officers and the public," said Mayor Emanuel. "They provide a firsthand look at the dangerous situations officers encounter on a daily basis, and improve transparency while building trust." The expedited expansion will support officers working on the street to reduce crime in neighborhoods, improve transparency and rebuild trust within the communities that police serve. With this announcement, patrol officers on all three watches in the final eight districts of the City will receive training and equipment on an accelerated schedule, completing implementation of the program a full year early.
"The citywide use of body worn cameras within the Chicago Police Department will provide a greater sense of self-awareness to both officers and the individuals that they interact with," said Superintendent Johnson. "A heightened recognition that police-citizen communications are being recorded citywide will help our officers de-escalate otherwise tense situations, and reduce the number of incidents necessitating the use of force, as well as the number of complaints against police. The net benefit is greater safety and security to our officers, and an overall improved interaction with the general public."
CPD is now using the latest in body worn camera technology, which is able to record up to 72-hours of high-definition video on a single charge. The cameras are a self-contained audio and video recording device to help improve usability. In preparation for widespread use of body cameras, police district stations have undergone infrastructure improvements to accommodate the increased bandwidth and technology associated with the AXON II cameras.
Officers receive both hands-on training and presentation-based instruction. Training personnel are always available to answer questions, troubleshoot technology or provide refresher instruction when requested. The University of Illinois at Chicago's Center for Research in Law and Justice is evaluating the body worn camera program. The study will be looking at how the program is being implemented and what impact it has on the perceptions and behaviors of both police officers and the community members with whom they have contact.