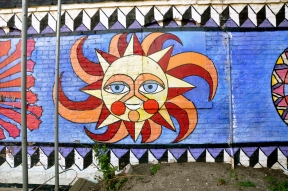 By: Ashmar Mandou
A group of gifted artists will come together Friday to share their artistic expression with the community at Esperanza's We Work Together annual art show. Esperanza Community Services is a non-profit that serves children and adults with developmental disabilities. This Friday, Esperanza welcomes all to their annual art show to be held at Colibri Studio and Gallery in Pilsen. Director of Development at Esperanza Jeffrey Fenwick spoke to Lawndale News about the importance of this event for the community.
Lawndale News: The annual We Work Together fundraiser is around the corner. Please share how Esperanza's We Work Together was conceived?
Jeffrey Fenwick: Esperanza Community Services has a long history of hosting events that feature works by our talented artists. Over the last few years, our fall/winter event has evolved so that the focus is exclusively on the artists and their works. For a long time we held the event at Esperanza – and that was great because it allowed people to come visit us. We're very fortunate to have connect with Montserrat Alsina, the owner of Colibri Gallery and Studio. She is a supporter of our mission and appreciates the talent and unique perspective and approach that each artist has. This will be our second year in Colibri, and it's great to be able to hold this event in an actual art gallery. It elevates the experience for both the guests and for the artists. The artists are visibly proud, and they are eager to show off their work. They want other people to appreciate it. Every artist wants their work to be on the walls of a gallery, and we are very grateful for the opportunity. The name was suggested by an Esperanza participant named Anthony. He came up with "we work together" immediately, right on the spot. It's great because there's so much information packed into that name. Our artists love to collaborate with people, and they work side by side in our art studio. They also played a lead role in curating the final selections for the show. So while We Work Together is a touchpoint for the art show, it's also a statement of truth about Esperanza.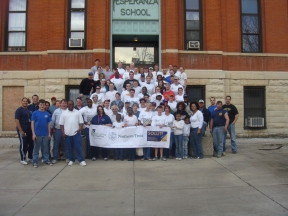 How important is this art show to the people at Esperanza and to the community the organization serves?
We Work Together is very significant to Esperanza and to the artists we serve. It's a way for people in our community to learn about Esperanza's programs that help children and adults with developmental disabilities. But more importantly, it's a way for people to be reminded of value that people with developmental disabilities add to our community. Some of our artists have limited verbal ability, and for them, painting might be a much more fluent language for expressing themselves.
What are you looking forward to seeing at the art show?
We always love watching reactions. The artists are very proud of their work and so they are smiling ear-to-ear all night. And it's also great to watch how our guests light up when they realize just how talented the artists are. Every artist has a unique technique and style, and watching people discover that for themselves is pretty great. In addition to having the paintings and drawings for sale, we'll have pieces called Art Merch available – those are things like phone cases, tote bags and more that have Esperanza art on them. We tried this last year and got a great response. We're also looking forward to hearing the playlist – one of our participants, Clarence, is our resident DJ and puts together a playlist of the music for the evening.
How will the funds raised at We Work Together help the mission of Esperanza?
All works are for sale, and all proceeds will support Esperanza's mission as well as the artists who created them. This is a free event, and more information is available at EsperanzaCommunity.org