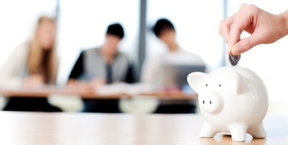 When you are pressed for time, out of ideas or just caught up in the holiday spirit, seasonal gift lists can sometimes quickly spiral out of control. If you're looking to spend a little bit less this season, the following seven tips from BMO Harris Bank can help you save some cash — and still pick up presents for everyone on your list:
Pick a number: To ensure you don't blow your budget, first figure out how much you can afford to spend on gifts altogether. Then, determine how much to spend on each person on your list. And remember to keep track of your expenses as you shop.
Get organized with an app: Downloading an app can help you stay organized while you're on the go.
Think twice about gift cards: Gift cards are a popular choice. If you decide to go the gift card route, be a savvy shopper and look for discounts. For example, keep an eye out for offers from your favorite stores, which may encourage the purchase of gift cards by offering an incentive (buy a $25 gift card for $20).

Shop on deal sites: You may be able to save by buying goods and service-based gifts online. There is a lot of deal tracking sites to pick from online.
It really is the thought that counts: You don't need to spend a ton to show someone you care.
Try a DIY present: It's the thought that counts when giving gifts to those you love and a homemade gift can really show someone how much you care. From homemade fudge to handmade jewelry, there are many ways you can roll up your sleeves and get creative.
Re-gift: As long as the gift is something the recipient would like and is unused, you may be able to recycle a present someone else gave you — but check first to make sure there isn't any engraving or other personalization. For more information on financial tips, visit www.bmoharris.com/life.