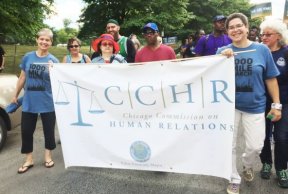 The Chicago Commission on Human Relations (CCHR) Board of Commissioners approved updated disability rights regulations under the City's Chicago Human Rights Ordinance (CHRO). These newly revised regulations, effective July 1, 2017, are designed to improve citywide accessibility for all residents and visitors through added clarity to existing disability protections. These changes will, in turn, help businesses make their goods and services more accessible for people with all types of disabilities. "Our top priority is to ensure that Chicago is inclusive for all people, and these changes are intended to eliminate confusion on the law to make it easier for businesses to serve people with disabilities," said CCHR Chair and Commissioner Mona Noriega. "We believe the clarity will be embraced by businesses, and we are committed to working with them on implementation so they can better serve all of their patrons." The revised regulations specify requirements for businesses, including:
Provide auxiliary aids and services where needed to ensure effective communication with customers who are deaf or hard of hearing. (I.e. these vary from customer to customer but include things such as sign language interpreters, captioning and use of TTY's and the telephone relay system)
Allow service animals to accompany people with disabilities to into their establishments.
Provide documents and other information in alternative formats – such as electronic formats, Braille or large print, when needed by people who are blind or have visual impairments.
For more information on the new regulations, please visit http://www.cityofchicago.ort/humanrelations For technical assistance on this regulation and the corresponding requirements of the ADA, residents can contact the MOPD's Accessibility Compliance Unit at (312) 744-4441.