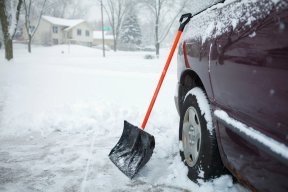 Keep your phone battery charged by investing in a car charger in the event your phone may die on icy or snowy roads. Think about purchasing an extra battery or power pack as a backup battery source.
Consider letting your phone temperature warm up to room temperature before you use or restart it to provide additional runtime.
When out and about, keep your phone case on and your phone in your pocket to absorb body heat. In addition, consider purchasing an insulated phone case from Verizon.
Never leave your phone in your car overnight in the winter.
In the event your phone is damaged or lost, Verizon has Total Mobile Protection offering next-day replacement, one tap access to expert support and cracked screen repair.