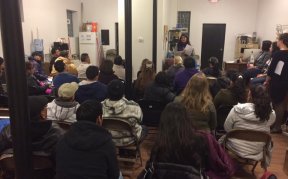 Caption by Ashmar Mandou
Latino Union of Chicago held a forum on February 9th to update the immigrant community in Albany Park about their rights under President Trump's immigration executive orders. During the forum, held at 4811 N. Central Park, residents asked questions about who the Trump administration would consider a priority for deportation and whether visas issues in the past were still valid after the executive order. One attendee voiced concern about whether his elderly parents, who have a visa, would be able to answer the detailed questions that some border guards are now asking visitors. An attorney also shared information about how to draw up documents designating emergency caregivers for children in case of a parent's deportation, as well as plans for homes and mortgages. Latino Union serves residents who are looking for help with home maintenance, house cleaning, child care and elder care with a worker-run hiring hall that is open from 7am to 11am Monday through Friday. Anyone interested in hiring a worker can contact the hiring hall by calling 773-588-2641 or emailing workercenter@latinounion.org workercenter@latinounion.org. "Our door is always open to our members and supporters, and we invite community members and the media to come visit us in our new location,"
says Latino Union Executive Director Analía Rodríguez.