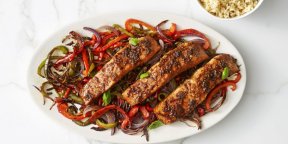 Ingredients
2 large peppers, seeded and thinly sliced
1 medium red onion, thinly sliced
2 tbsp. toasted sesame oil, divided
1/4 tsp. salt
3 tbsp. soy sauce
2 tbsp. honey
2 tsp. grated peeled fresh ginger
1/4 tsp. black pepper
4 fillets salmon (5 oz. each)
3 c. cooked brown rice
fresh basil, for garnish
Directions
On large rimmed baking sheet, toss peppers with onion, 1 tablespoon sesame oil and salt. Roast in 425 degree F oven 20 minutes or until tender.
In 2-quart baking dish, whisk soy sauce, honey, 1 tablespoon sesame oil, ginger and black pepper; add salmon turning to coat. Bake for 15 to 20 minutes or until cooked through.
Serve salmon with pepper mixture and cooked brown rice. Garnish with fresh basil.