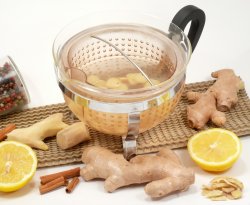 Revise su despensa y refrigerador. ¿Ve gengibre fresco o en polvo? si no, es hora de planear un viaje a la tienda – ya! Porque esta maravilla médica, durante mucho tiempo en la medicina china y aclamada como especie sanadora, actualmente tiene mucha ciencia que la respalda. Y no solo cura el mareo. el Gengibre puede mejorar dolores premenstruales, jaquecas, hinchazón y mucho más. A continuación algunas razones para empezar a utilizar esta potente raiz con regularidad.
Alivia los Músculos Adoloridos
Tome gengibre antes de ir al gimnasio. Los investigadores han descubierto que el gengibre, que actúa como alivio natural al dolor y tiene poderes anti-inflamatorios, puede aliviar los músculos adoloridos después de hacer ejercicio. En un estudio publicado en The Journal of Pain, los participantes que tomaron dos gramos de gengibre al día (1 cucharada de gengibre rallado fresco, o 3.4 cucharaditas de polvo de gengibre) experimentaban un 25% de reducción en dolores musculares inducidos por ejercicios 24 horas después de hacer el ejercicio, comparados con un placebo. Las personas que corren pueden beneficiarse también: En otro estudio, la resistencia de los atletas que tomaron gengibre en polvo (como el que usted tiene en su gabinete de especies) les había bajado la inflamación.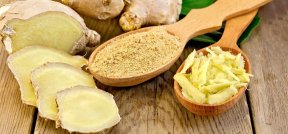 Evita la Inflamación Estomacal
Usted conoce el gengibre como un remedio para las náuseas, pero no es su única virtud: "El gengibre le ayuda en la digestión y puede evitar que su estómago se llene de incómodos gases", dice Capalino. Concido como una hierba carminativa (lo que quiere decir que se deshace del exceso de gas), los componentes del gengibre estimulan los jugos gástricos y los órganos digestivos mejorando la digestión. Además, contiene la enzima zingibain para ayudar a desglosar las proteínas.
Puede Ayudarle con la Memoria
El gengibre puede preservar su cerebro contra el Alzheimer's. La enfermedad neurodegenerativa está vinculada a depósitos pegajosos de proteinas amiloides en el cerebro, sin embargo, un estudio de laboratorio sugiere que el gengibre puede proteger a las células cerebrales de estas placas, retardando el inicio y el progreso de la enfermedad. Los efectos tienen aún que estudiarse en humanos, pero como el comer gengibre no causa ningún problema, vale la pena incorporarlo en su dieta cerebral diaria.