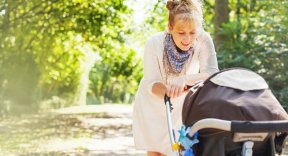 La actriz Jennifer Garner, madre de tres, una vez, bromeando, se refirió al peso extra que le dejó el embarazo alrededor de su estómago como su "baby bump" y agregó casi con orgullo, "No pasa nada". Drew Barrymore, después de haber dado a luz a sus gemelos lo discribió como "todo me quedó como fláccido y raro" Pero también desestimó la presión de Hollywood de perder peso como una cosa "tonta y ridícula". "Las mujeres ciertamente reaccionan en forma diferente a los cambios de su cuerpo después de dar a luz", dice el Dr. Michael Burgdorf, autor de The Mommy Makeover: Restoring Your Body After Childbirth y fundador de Music City Plastic Surgery. "Algunas mujeres se sienten bien porque la felicidad no debe estar en la forma en que luce su cuerpo. La felicidad debe venir desde dentro. Pero encuentro a mujeres que han perdido la confianza, preocupadas de ser menos deseables a sus parejas y dicen sentirse viejas antes de tiempo". Para las mujeres que desean regresar a la forma que tenían antes del embarazo – o por lo menos aproximadamente – Burgdof ofrece este consejo: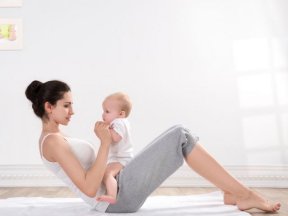 La dieta y el ejercicio siguen siendo la primera opción. "No tiene que entrenarse para un maratón entre pañal y pañal, pero puede hacer algo de ejercicio regular", dice Burgdorf. No espere regresar completamente al cuerpo que tenía antes del embarazo, pero estará en mejores condiciones y más saludable.
Un "cambio de imagen de mamá" puede ser lo adecuado para algunas mujeres. Muchas mujeres escogen la cirugía plástica. De hecho, un estudio hecho por la Sociedad Estadounidense de Cirujanos Plásticos encontró que el 62 por ciento de las madres deberían considerar un cambio de imagen si el costo no es problema. El cambio de imagen de una madre incluye una abdominoplastía, la liposucción, aumento en los senos y un levantamiento de senos. Burgdorf dice que esto puede ser una buena opción para las mujeres que no planean tener más hijos y sienten que esto mejorará sus vidas emocionalmente. Pero advierte que un cambio de imagen de la madre no es algo mágico (no la va a cambiar por otra persona) y no va a regresar el reloj 20 años.

No deje que otros decidan por usted. Ultimadamente, es la opinión de la mujer sobre su cuerpo lo que importa. Por ejemplo, si a su esposo no le gusta como luce y constantemente critica su cuerpo, ese es más bien un problema marital y no un problema de cirugía plástica, dice Burgdorf. La cirugía no va a salvar una mala relación. Muchas veces, sin embargo, las mujeres quieren el cambio de imagen y son los esposos los que se resisten a ello porque temen por la seguridad de su esposa.
El Dr. Michael Burgdofr, autor de The Mommy makeover: Restoring Your Body After childbirth (www.drmichaelburgdorf.com) es un cirujano plástico certificado y fundador/presidente de Music City Plastic Surgery en Nashville.