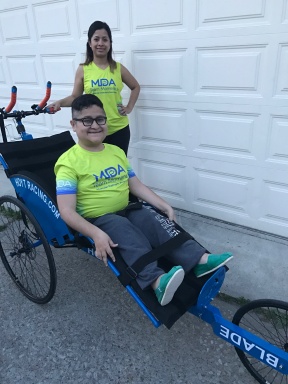 By: Ashmar Mandou
Thousands of ambitious people from all walks of life are about to participate in the annual Chicago Spring Half Marathon this Sunday, May 21st. For some, this race serves as a jumping off point to officially welcome the outdoor running season, while for others the race signifies a purpose to spread health awareness. For Hugo Trevino and Carmencita Lewis, the Chicago Spring Half Marathon serves as a way to spread awareness about issues close to their heart. Trevino, a Cicero resident, was diagnosed with Spinal Muscular Atrophy at a very young age. Despite his diagnosis, Trevino has managed to live a full life studying abroad, pursuing his master's degree, and becoming an ambassador for the Muscular Dystrophy Association. As part of the MDA team, Trevino will participate with the help of his sister Maria. "We are thrilled that Hugo and Maria will once again take on the Chicago Spring Half Marathon & 10K. They are an inspiration to many. To see the joy on Hugo's face when he crosses the finish line is a truly incredible moment. It's moments like this that make race days so special. We are honored to be able to support the individuals and families affected by Muscular Dystrophy, like Maria and Hugo," said Chicago Spring Half Marathon Spokesperson Dan Lakin. As for Lewis, her mission is to raise stroke awareness. The Riverdale resident suffered a stroke as well as her mother, which motivated Lewis to begin running to remain healthy and educate other Latinas on the importance of maintaining a healthy lifestyle. Lawndale Bilingual Newspaper interviewed Trevino and Lewis who shared their personal story.
Lawndale Bilingual Newspaper: I understand this Sunday's Chicago Spring Half Marathon & 10k will be your first race.  What inspired you to participate this year?
Hugo Trevino: MDA has always been such a huge part of my life; from getting the best healthcare by attending MDA Care Centers, to going to MDA Summer Camp as a child where I met and made lifelong friendships with other children with rare neurological diseases, and now working for MDA as a Resource Specialist, it made sense to continue to give back to MDA and continue to fight this disease in order to one day find a cure. I also have tons of friends who are affected by neuromuscular diseases covered by the MDA organization and it made sense to get out there and fight for their right to get better care, treatments and ultimately a cure.
You were diagnosed with Spinal Muscular Atrophy Type 3 at a very young age. What is Spinal Muscular Atrophy?
Spinal Muscular Atrophy is a rare neurological disease that slowly takes away muscle strength by weakening motor nerve cells in the spinal cord. It mostly affects my trunk muscles, breathing and neck muscles. This caused for me to stop walking at the age of 12 and can turn a simple cold into a life threatening pulmonary infection. It is the number one genetic killer of infants and probably the reason why most people have never heard of the disease.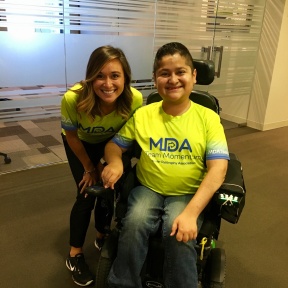 How do you live out your life and what goals have you accomplished that you are proud of?
I have lived my entire life with this disability and I honestly do not know what my life would be like without it. I have met a lot of great people thanks to my disability and have been able to not only physically see the world but also experience it differently thanks to my disability. When I was young, around 9 years old and in the third grade, I went through a really bad depression. I was facing a lot of bullying due to the fact that I was walking weird as I was losing my ability to walk. I remember being so depressed I stayed indoors for an entire summer. Once I realized I had missed out on an entire summer of fun I made the decision to accept my disability and no longer live my life wishing I was different or hating god or the world for picking me to go through this journey. Yes, I had a disability but it did not mean I could not explore the world, I just needed help doing things differently and as long as I was willing to knock down barriers to make the world more accessible, the world was my oyster. Around that age of experiencing my depression, I also started going to MDA Summer Camp and got to meet so many other kids and young adults who were living their lives to the fullest and I knew I could do the same. I am proud of having graduated from the University of Illinois at Urbana Champaign which is not only a top ranked school but also the most accessible school in the USA and the world. I was fortunate to be able to study abroad three times as an undergraduate student to Costa Rica, Hong Kong, and Taiwan. That passion to travel has led me to acquire a Master's degree in International Higher Education where I hope to continue to help patients with neuromuscular diseases worldwide, work at study abroad office or a Latino Cultural Center.
What motivates you?
What motivates me is working with all our different families who have neuromuscular diseases. They are constantly fighting back by raising money to end muscles diseases. I have lived with my disease my whole life and never imagined that a cure or treatment would ever be discovered in my lifetime. This year, not only did a treatment come out for SMA, but there was also a breakthrough in two new treatments for Duchenne Muscular Dystrophy (DMD) and one new treatment for Amyotrophic Lateral Sclerosis (ALS). It has been the most motivational thing to be working with MDA during this groundbreaking time. I love getting calls from patients with our diseases asking me how they can also get involved with clinical trials and make their disease be the new disease we will find a treatment or cure for.
What does participating in the 10k mean to you?  How do you hope your story inspires others?
I don't think I can fully grasp what running a 10k will mean to me until I cross that finish line. I will probably be an emotional mess filled with tears of joy and so many other emotions. I physically do not have the strength to lift anything more than 3 pounds. My sister, Maria, who is already a hero of mine is giving me the experience of running an endurance race, something I never thought would be possible. By running this race my sister is guaranteeing that one day no other family will have to be affected by a muscle disease like SMA. I am so grateful for her and what this race means our family, the SMA community and the entire community of people with disabilities. My sister's muscles are running a 10k but her strength is inspiring me to never give up in life no matter the distance.
What other goals are you set out to accomplish this year?
I hope to continue to inspire others to fight back against whatever battles they might be facing, whether that is gaining independence and trying to find a cure for their disease or getting out there and being more compassionate in order to make this world a better place. I remember seeing Chris Benyo pushing an empty chair in the 2016 Bank of America Chicago Marathon to honor his wife Denise DiMarzo, who has passed away from complications with ALS earlier that summer. I was so inspired by his resilience. I will be using that chair in the race and I hope to inspire others the way they inspired me. I also hope to finish my Master's in Education degree this upcoming May 2018.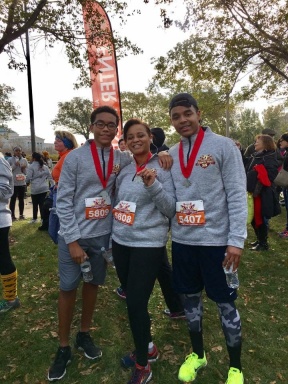 Carmencita Lewis
Lawndale Bilingual Newspaper: What inspired you to participate in this year's Chicago Spring Half Marathon? 
Carmencita Lewis: My mother and I are both stroke survivors. My committed run journey began a year ago as I now run for both of us.  I was inspired to participate in this year's Chicago Spring Half as a friend of mine recommended the Series since I didn't want to tax my body with training for and running a full marathon out the gate.   It's hard for me to believe that the Chicago Spring Half will be my 3rd half in 2017.  Prior to Mid-December, my longest run was 5 miles.  I'm really excited about my running growth over the past year and can't wait to receive my 26.2 medal in September. 
You and your mother are both stroke survivors.  How has overcoming a stroke affected your life and how has it brought you closer to your mother?
For both of us, I didn't see it coming.  You can't judge a book by its cover as we both appeared perfectly fine externally, until we weren't. The only comparison between our strokes is that we are both survivors.  Mom's residual effects were pretty extreme and have worsened over the past 28 years. The stroke left her with paralysis on one side and the loss of her independence. She was a trooper and learned to speak, eat and eventually walking on her own.  I became her primary care giver and our roles reversed.  Unfortunately, trying to balance a career, family and being a caregiver placed my stress level extremely high which resulted in me having a stroke in 2013.  We were always close, but I now know firsthand about some of the phases she when through with her stroke and have become more understanding of her condition.  Mom will be 85 on the 29th so our love and care has been effective. Now, I run and workout regularly to manage stress and prevent other health issues.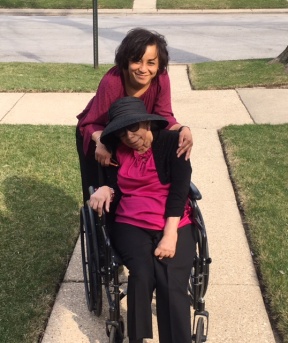 What advice would you like to share with other women about the importance of staying on top of their health?
They best advice I could offer other women is twofold:   One, Listen to your body.  If something doesn't feel right; there is a good chance you need to seek medical advisement.  I suffered through immobilizing headaches for a few months prior to having my stroke. My self-diagnosis was sinus congestion.   The headaches eventually went away so I never even called a nurse. Not good.   Two, Stay active.  Active folks also suffer from illness and disease, however you can reduce your health risks and stress levels by maintaining an active lifestyle. I choose to run because I can. Put in time for you and do 30 minutes of exercise daily.  I am pretty self-motivated when it comes to running, however joined Black Girl's Run and have become even more committed to my health with this strong sisterhood.
What does participating in the half marathon mean to you?  How do you hope your story inspires others?
Participating in half marathons is a personal challenge of my strength and endurance.  I just push myself forward and refuse to give up as I race against the clock.  Running in general just gives me "life".  It clears my mind and prepares me for the next task at hand. 
What other goals would you like to accomplish this year?
My 2017 run goals are as follows:  to complete a total of 4 half marathons this year, continue to PR with each race, complete 13.1 miles within an hour by October and run at least one race again with my sons.  Most of all continue to encourage others on their movement journey along the way.