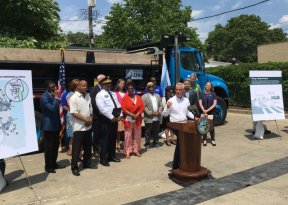 Mayor Emanuel announced the City of Chicago is intensifying its efforts at saving lives and preventing serious injuries through a three-year Vision Zero Chicago Action Plan. The data-driven, multi-agency approach looks at traffic safety as a public health challenge and is designed to improve traffic safety for all road users. The ultimate goal of Vision Zero is to reduce roadway crashes and eliminate traffic fatalities and serious injuries in Chicago by 2026. The Mayor made the announcement alongside Alderman Emma Mitts (37th) at the site of a pedestrian refuge island installed at Chicago Avenue and Lamon Avenue as a part of a Safe Routes to School infrastructure project. The plan covers the first three years of the effort, which is based on the principles of the international Vision Zero movement. It incorporates traffic crash data, identifies the greatest opportunities for change, and establishes the City's priorities and resources for addressing this public health challenge.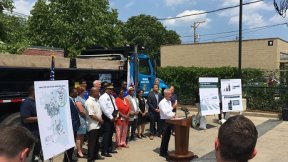 The planning process was coordinated by the Mayor's Office and led by the Chicago Department of Transportation (CDOT), the Chicago Department of Public Health (CDPH) and the Chicago Police Department (CPD). As part of the planning for Vision Zero Chicago, the City has used crash data to identify 43 High Crash Corridors and eight High Crash Areas. Of the High Crash Areas, seven of the eight are on the West and South Side of the city, with the remainder being downtown where the higher crash rate is correlated with higher density and higher volumes of vehicles and pedestrians. Police efforts under Vision Zero will be focused on education and engagement events in High Crash Areas and Corridors. The Vision Zero Action Plan lays out four key goals and specific strategies to achieve these goals: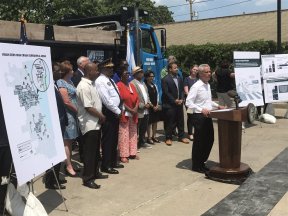 Invest in communities that are most affected by severe traffic crashes.
Work to change behaviors and perceptions to build a culture of a safety.
Make streets safer for all users.
Encourage and implement policies, training and technologies that create safer vehicles and safer professional drivers.
Communities most heavily affected by severe traffic crashes will be prioritized for outreach and education, starting with a pilot project this summer on the West Side in Garfield Park and Austin, funded by an $185,000 grant from the National Safety Council. To view the full Vision Zero Action plan, go to http://visionzerochicago.org/.